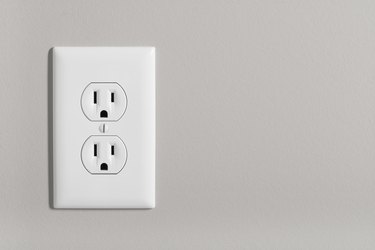 No home is complete without electric outlets, but they don't exactly add to the decor. On the contrary, the featureless white or almond finish of a standard outlet cover adds an element of sameness to every wall, counter or cabinet on which you find it, and it definitely detracts. Instead of letting that happen, you can get creative and find elaborate ways to hide the outlets or, even easier, camouflage them in plain sight.
Creative Cover Plates
You don't have to use a standard outlet cover plate. You can make your own, and it doesn't even have to be the same size or shape as a standard one as long as the screw hole and the openings for the outlets are the same sizes, shapes and in the right places. Start with a piece of quarter-inch plywood, use a standard outlet as a template for the holes and opening, cut them with a drill and jigsaw, then let your imagination run wild. Make a bear, a star or a whimsical art-deco shape that fits with your decor.
Wallpaper and Paint
An outlet will all but disappear if the cover is exactly the same color and pattern as the wall. A simple camouflage technique is to simply install the receptacle and cover before you paint or wallpaper and just go ahead and paint or wallpaper as if it weren't there. For safety, ensure the power is off until the paint or wallpaper is dry, and then plug and unplug a test appliance before you turn the power back on. If you've papered over the outlet, the plug will break the paper. Clean the broken paper from around the holes while the power is off.
Installation Options
You have more options for hiding an outlet if you haven't installed it yet. To make it less obtrusive in a counter backsplash, you can orient it horizontally instead of vertically or place it close to the underside of overhanging cabinets. An effective solution in some kitchens may be to install power strips to the undersides of cabinets. In walls, outlets tend to be less visible near inside corners or close to the floor. If the room has features like posts, you can use them to help hide the outlets. Minimize the number of outlets you need by grouping them together in double-gang boxes or using power strips. Check local electrical codes before installing outlets to ensure compliance.
Secret Outlets
No one can see an outlet if it's hidden behind a door, and that's something that you can plan into a cabinet. The outlet can be in a small alcove just under the counter or built into the side -- if it meets local building codes -- and the door covering it can have a notch for a power cord so the door can stay closed even when something is plugged in. You can hide wall outlets in a similar way. Build a wooden frame around each one you want to hide and install a cover that hinges at the top so the outlet remains hidden when it's in use.
---
Chris Deziel is a contractor, builder and general fix-it pro who has been active in the construction trades for 40 years. He has degrees in science and humanities and years of teaching experience. An avid craftsman and musician, Deziel began writing on home improvement topics in 2010. He worked as an expert consultant with eHow Now and Pro Referral -- a Home Depot site. A DIYer by nature, Deziel regularly shares tips and tricks for a better home and garden at Hunker.com.
View Work