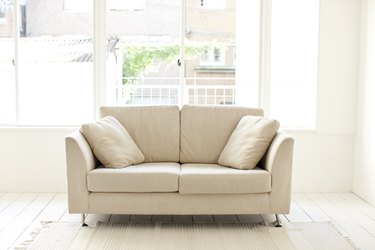 Though the differences between loveseats and settees are minor, which one you decide to purchase for your living room, bedroom or recreation room mainly depends on how you want to arrange your furniture and how much space you are working with. Find antique loveseats and settees for your living room and cushy, modern versions for a living room or child's playroom, as some pieces are used more as decorative items than as functional seating.
Loveseat Description
A loveseat is a small couch or double chair that seats up to two people, or a couple, hence the term "loveseat." A loveseat can come in just about any style, but most contain distinctive sections for each person to sit. Antique versions may not contain these distinctions, but are small enough to clearly indicate that it can fit only two adult people. You can purchase loveseats individually or as a part of a living room set that contains a larger couch and a chair. A loveseat may feature upholstered arms depending on the model, though it can also come in backless versions or versions with lower backs and higher arm rests.
Settee Description
A settee is either a long wooden bench with a back or a small or medium-sized sofa. It typically can seat more than two people, and always features a back and arms. Settees come in a range of styles, including antique wooden versions with legs and upholstered versions that do not feature obvious legs. It can be purchased alone or as part of a living room set.
Differences
The main difference between a loveseat and a settee is that a loveseat is built to fit two people only, while a settee usually fits two or more people. Settees also always feature a back, while some loveseats are backless or feature low backs. While loveseats are always an individual furniture piece, settees may be part of a sectional sofa with pieces that can be added or removed as desired.
Buying Tips
Choose a settee or a loveseat for your home or apartment based on how much space you are working with, as well as other practical aspects. For example, you can purchase a settee that is also a pull-out sleeper sofa, which is useful if you need an extra bed but don't have the space or have frequent guests. A loveseat can generally be used as a sleeper for a child only, as children are small enough to fit comfortably within the small sofa. Design is another aspect; though both come in intricate and plainer styles.
---
Kent Page McGroarty has worked as a writer since 2006, contributing numerous articles to various websites. She is a frequent contributor to the health and fitness sections of the online magazine EDGE Publications and holds a Bachelor of Arts in English from Saint Joseph's University.