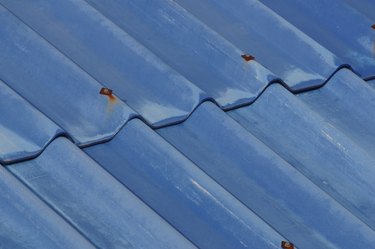 You can buy panels of corrugated metal roofing in standard spans or lengths or have them cut to a specific size. The appropriate length of span varies according to the type of corrugation, which refers to the folds or waves in the metal that give them their strength. Panels with deep corrugation are usually stronger and can be used in longer spans than shallow corrugation. The width of panels depends on the type of corrugation.
Corrugation and Span
Sheets of corrugated metal that have deeper valleys between the ribs are generally stronger and you can apply them in longer spans. Sheets with deep valleys are typically marketed in narrower widths than sheets with shallow valleys. Deeper valleys and longer spans usually mean you can buy lighter gauge metal and need fewer supports. These factors will save you money.
Common Spans
Panels of corrugated metal roofing typically come in 6-foot lengths. You can order sheets cut to specific lengths ranging from 5 to 45 feet long, although it is difficult to handle a panel longer than 16 feet. When calculating how many panels you need, remember that you have overlap the panels by 2 inches, so a 6-foot length actually covers an area 5 foot 10 inches long.
Deep Valley Corrugation
N Deck sheets have valleys that are three inches deep, so you can apply them in longer spans. The 2" composite has corrugations that are two inches deep, making it useful for bonding to cement and metal for composite roofs. Both N Deck and 2" composite sheets are typically 24 inches wide.
Standard Valley Corrugation
It is best to apply sheets with valleys ranging from 9/16 to 1 ½ inches deep in the standard 6- foot-long spans. They are typically 36 inches wide.
---
A one-time farm boy, Richard Hoyt, holder of a PhD in American studies, is a former newspaper reporter, magazine writer and college professor. While writing 27 novels of suspense, he has lived on sugar cane, pepper and papaya plantations and helped keep bees in Belize.