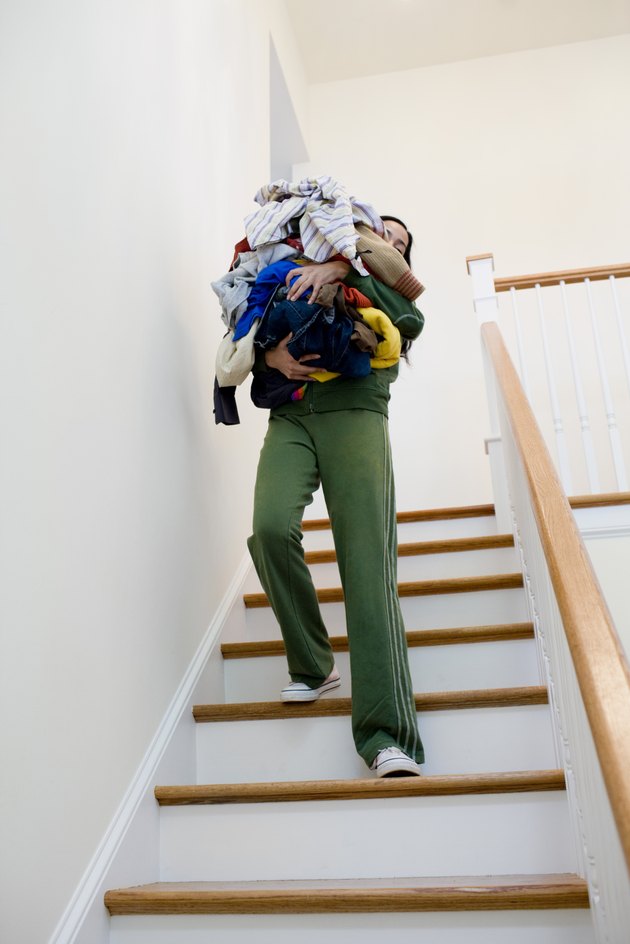 Stairways are complex constructions that allow easy access between the floors of a structure. They consist of several components that must fit together correctly, including handrails, stair steps and risers. Building authorities in Michigan, as they do in the rest of the country, ensure proper construction through the enforcement of building codes.
Government
The Bureau of Construction Codes, under the Michigan Department of Licensing and Regulatory Affairs, manages the state residential code to "assure that the built environment and the systems within are sound, safe and sanitary." The Bureau only approves stairs and risers for occupant use after an inspection for minimum code compliance. The Bureau bases its codes on the International Residential Code (IRC), which lies at the foundation of most home construction rules in the U.S. The IRC is under the jurisdiction of the International Code Council, a non-profit organization that also manages the International Fire Code and the International Energy Conservation Code.
Risers
A riser is the vertical part of the stair that joins one step or tread to another. The Michigan Residential Building Code specifies that a riser be a maximum height of 8.25 inches as measured vertically between the leading edges of the adjacent treads. The riser measurements must be equal across an entire flight of stairs. The tallest riser cannot differ from the smallest by more than 0.37-inch. Risers may slope up to 30 degrees from the underside of the tread. They may be solid, open or have any pattern, provided that spaces do not allow a 4-inch-diameter sphere to pass. This prevents small children from getting their heads stuck in between risers.
Exceptions
Spiral stairways can use a maximum riser height of 9.5 inches. Bulkhead enclosure stairways join an upper grade level, such as a garden, to a lower interior finished level, such as a basement. They are exempt from riser codes if they meet the following conditions: They must not be the only way to exit the basement, the entire stairway must not be higher than 8 feet as measured from the basement floor to the grade above, and the opening from the grade to the stairway must be covered by a hinged door or other approved means.
ADA
The Americans with Disabilities Act (ADA) ensures that the disabled can use building facilities by modifying the International Residential Code as needed. ADA specifications are mandated for public, commercial and multi-family dwellings. They are optional for one- or two-family residences, unless homeowners want to make them accessible because they themselves are disabled. The ADA requires risers to be from 4 to 7 inches high and does not allow open risers.
---
Aurelio Locsin has been writing professionally since 1982. He published his first book in 1996 and is a frequent contributor to many online publications, specializing in consumer, business and technical topics. Locsin holds a Bachelor of Arts in scientific and technical communications from the University of Washington.