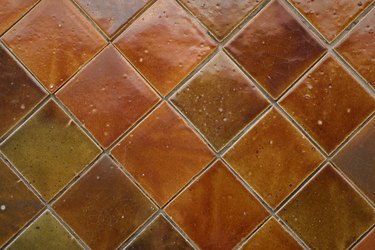 Ceramic decor items, dishes and building materials add unique and personal touches to any home. The advantages of ceramic over other materials are numerous and although there are some downsides to the use of this material, as a whole it is a product which is is extremely compatible with maintaining a clean, carefree and safe household and lifestyle.
Cost
Ceramics are usually relatively inexpensive, depending on the application. Installing ceramic tile throughout your home is far less expensive than adding carpet or hardwood flooring. There are cost differences though when ceramics are applied to the manufacturing of dishes and cookware. Some are extremely inexpensive while others demand top dollar because of design, brand and quality issues.
Color
Ceramic items also tend to hold color well. Unlike cement or stone, paint on ceramic vases, dishes and decorative items will stick to the surfaces and remain vivid for years to come. This makes ceramics also popular as an art and decorative form -- interior decorators often opt to use ceramic both as floor and wall coverings, as well as in decorative pots, figurines, vases, lamps and knobs.
Durability
One of the downsides to ceramics is that the products are usually very fragile -- not as fragile as their counterpart in porcelain but easily crushed, broken or shattered. Care should always be taken in the handling of ceramic items and cookware, and dishes should not be used if cracked or chipped. However, ceramics can handle extremes of heat and cold very well and are often used for freezer-to-oven casseroles and other favorite dishes.
Easy To Clean
Ceramics are commonly used in nursing homes, hospitals and child care facilities because of the high levels of sanitation with tile walls, flooring and ceramic fixtures. This is equally important in your own home, especially in areas such as the kitchen or bathroom. Ceramic is very easy to clean, stain resistant and does not retain the residues and smells of chemicals, foods or beverages.
Ceramic Surfaces
The texture of ceramic surfaces is cool and smooth to the touch and pleasing to the eye. It can be slippery, so care should be taken when handling ceramic dishes or cookware. Ceramic tile can be treated with an abrasive grit application available at your local building supply store or you can add texture to the tile surface to reduce accidents and ensure the safety of all who walk on it.
Water
Ceramics are especially useful in areas with heavy moisture such as bathrooms, kitchens and outdoors. Ceramic tile keeps these areas free from leakage, corrosion and mold. Ceramic dishes are leak-proof and are ideal for hot teas and other hot and cold beverages. Flower pots hold moist soil to aid in the growth of plants both indoors and out.
---
Sheryl Faber is a graduate of Minnesota State University. She has had articles published in "True Story" magazine, "Club Management Magazine" and on the websites for San Antonio Weddings and Sante' Foodservice. Faber is also a screenwriter and has movies currently under contract.