Things You'll Need
4-inch PVC perforated pipe

Shovel

Backhoe

Bubble level

Rosin paper

Tape measure
Tip
Dump the dirt onto the rosin paper slowly so that the rosin paper does not shift.
Warning
Building codes are regulated at a township level. Check with your local building inspector to find out permit requirements.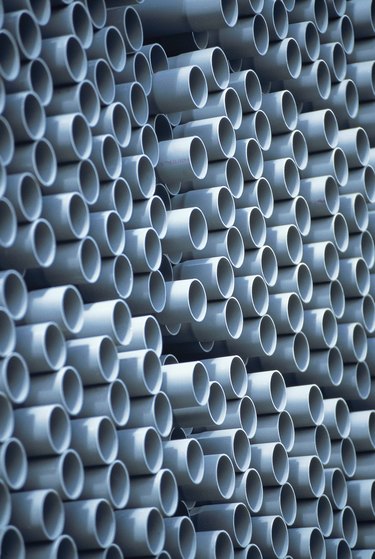 Lateral line installation is very important to the overall performance of a septic system. The lines should pitch down at a rate of one-quarter inch per foot. Proper pitch ensures that the waste materials flow properly without creating a block in the pipes. Even a pipe that is sloping down too fast can cause problems.
Step 1
Install each lateral line into the inlet holes in the junction box. The end of the pipes must be flush with the side of the junction box or overhanging into the box one-quarter inch.
Step 2
Inspect the height of the pipes by measuring the distance from the bottom of the box to the bottom of each inlet pipe.
Step 3
Place mortar on the outside of each pipe to secure the pipes to the junction box.
Step 4
Shovel stones around the outside of the junction box until there is 10 to12 inches of stone beneath the pipes.
Step 5
Level the stones so that the grade is sloping down one-quarter inch per foot.
Step 6
Install perforated pipes to the junction box and extending throughout the absorption field and parallel to each other. The pipes must be three feet apart and sloping down away from the junction box at a rate of one-quarter inch per foot. Your township can give you specific distances according to your local building codes.
Step 7
Fill stones around the pipe and on top of it so that the pipe will not move. Cover the pipe at least two inches above the top of the pipe.
Step 8
Lay red rosin paper on the stones to keep the dirt from being mixed into the stones.
Step 9
Fill the remaining dirt into the drain field on top of the rosin paper.
---
Elijah Reno is an entrepreneur working in the SEO marketing field. Prior to starting his own business, Reno worked as a civil servant. He began writing technical documents such as Phoenix Sky Harbor Data Package and Boston Logan Technical Package in 1993. He holds a bachelor's degree in information and computer science from Stockton State College.