Things You'll Need
Socket wrench

Phillips screwdriver

Putty knife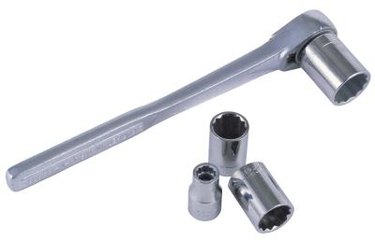 The Cabrio line of appliances by Whirlpool includes a line of energy-efficient washing machines. A number of important components inside the washing machine cabinet may need to be replaced if they wear out or break. You must take the washer apart to access many of the interior washing machine parts.
Step 1
Unplug the power cord from the electrical socket. Turn off the faucets leading to the washing machine.
Step 2
Disconnect the water inlet hoses from the back of the Cabrio washer. Set the hoses in the bucket to collect any remaining water.
Step 3
Remove the hex head screws on the back of the control console. Lift the console onto the top of the washer. Disconnect the electrical connectors leading into the console. Set the control console aside.
Step 4
Insert the putty knife into the gap between the top panel and front panel. Slide the knife along the gap to locate the internal clips. Press the putty knife into each clip to unhook them.
Step 5
Lift the top panel up to rest on its rear hinges.
Step 6
Pull the fabric softener dispenser straight up to unhook it from the agitator. Remove the bolt on the top of the agitator. Lift the agitator straight up to remove it from the Whirlpool Cabrio washing machine.
Step 7
Unhook the clamps around the edge of the tub. Loosen the clamp on the hose connecting to the tub. Lift the hose out of its socket.
Step 8
Lift the tub straight up to remove it from the washing machine.
---
David Clair began writing for websites in 2001, creating online marketing content for business owners. He has written for Internet companies including eBay and creates training materials for an online education company. Clair is studying technical writing and pursuing an Associate of Arts in information technology from the University of Phoenix.