There are various kinds of berries found among plant life. When looking for berries among trees and other foliage (which is known as foraging), it's important to know which kind are edible and which kind can make you sick or even be poisonous. The largest assortment of berries are found on low bushes, which grow everywhere birds drop seed, however, they typically flourish in the sun. There are some wild berries that require cooking but the most common and abundant can be enjoyed right off the bush. Pennsylvania has a number of berry-picking compounds, including Mount Joy Berry Farm, Boyer Nurseries & Orchards and Yellow Hill Farm.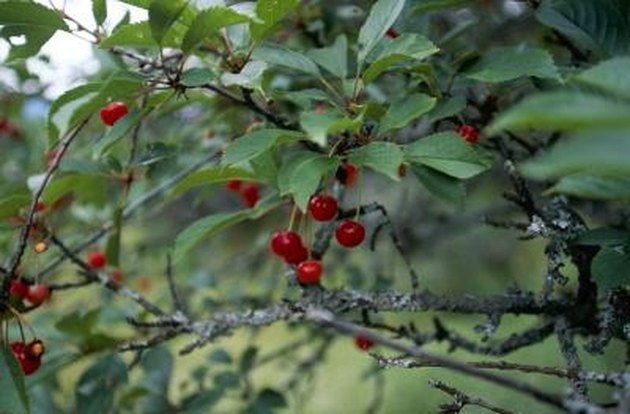 How to Identify Edible Berry Trees in Pennsylvania
Step 1
Look for areas with far-traveling birds, as berries serve to peddle seeds from their parent plant to be distributed as far away as possible. Also seek out places in which white flowers are found. In these areas, bees will find the flowers and birds are attracted to the bright berries when they're ripe. Use a plastic or straw basket to collect what you find.
Step 2
Search near natural meadows, along rivers and ponds. Experts also recommend "disturbed ground" or places where trees and undergrowth have been removed, offering numerous decades of sunny ground for rapid growth of berry bushes and small fruiting trees to settle, before forest trees grow too tall and block them with shade.
Step 3
Be sure to identify all berries before you pick or eat them. Use a reliable, current field guide or, if possible, have an expert berry picker accompany you on your initial trips.
Step 4
Avoid areas that have been freshly sprayed with herbicide. Dead vegetation tends to be a sign of such areas. It's best to revisit after a year.
Step 5
Don't mistake pokeweed berry for blueberries. While they are similar in appearance, pokeweed berries can be toxic and are unappetizing.
Step 6
Look for wild cherries that are small (about a quarter-inch) round, red or blue-black in color scattered on low trees. Generally, if a bright red, juicy berry growing bountifully on a wild bush or tree tastes good (even if a tad sour), it's safe to eat.
Step 7
Find elderberries in moist woodlands, at margins of fields and along trails and forest roads. They are usually among white flowers around six inches or in diameter. They can be toxic to some when consumed raw and are strong and bitter in taste, however they cook well into juice for jelly, flavor for apple wine, or syrup.