Sentry fire safes come with a factory-set three- or four-digit combination lock. This combination is unique to the safe's serial number and can't be changed. The combination is printed on the front of the owner's manual that came with the safe. If you forgot the combination and have misplaced the owner's manual, there's no way to "break in" to the safe or reset the combination. You will need to contact the Sentry Group directly and have a representative look up the combination for you.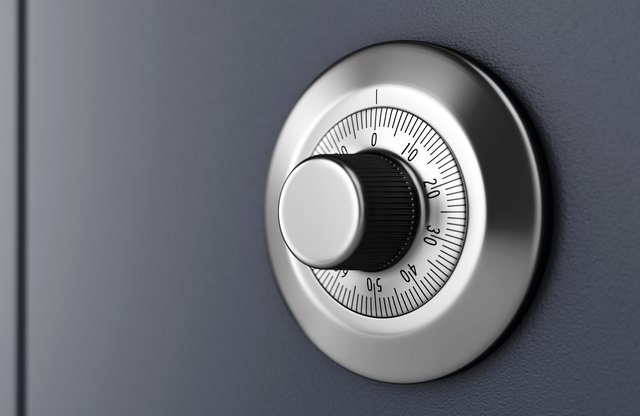 credit:
farakos/iStock/GettyImages
Step 1
Download and print a notary form from Sentry at sentrysafe.com. You will need to provide your full name, address, telephone number, and your safe's model and serial numbers. The serial number is printed on a sticker on the front of the safe's door. You will also need to indicate on the form how you want the lost combination delivered to you: by mail, fax or email.
Step 2
Get the form notarized and have it signed by a notary public. The notary's last name must not be the same as yours.
Step 3
Write a check or obtain a money order for $20 payable to the Sentry Group. This covers the research fees associated with looking up your safe's combination.
Step 4
Fax or mail the form to the Sentry Group at:
Sentry Group 900 Linden Avenue Rochester, NY 14625
Step 5
Wait for someone from Sentry Group to contact you. Requests are answered within 48 hours after Sentry receives documentation and payment.