Things You'll Need
Ice cream ingredients

Refrigerator

Crushed ice

Rock salt

Spoon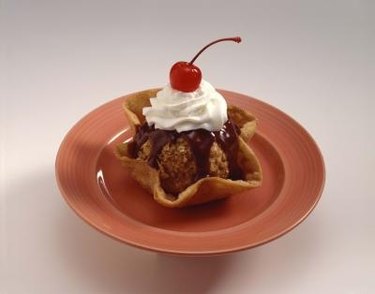 Making ice cream at home provides you an alternative to mass-produced lower quality ice cream on the market. You can use your Sterling 5-qt. ice cream freezer to create your own personal flavors and textures. The Sterling 5-qt. ice cream freezer is straightforward and will not take you long to master.
Step 1
Gather the necessary ingredients that you will need to create your ice cream masterpiece. The basic ingredients include milk, cream and sugar. However, the exact ingredients depend on the recipe you plan to use.
Step 2
Cool the metal canister and the beaters in the refrigerator for 30 minutes to lower the temperature of the metal. Metal at room temperature can prevent the ice cream from forming properly.
Step 3
Mix together all of the ingredients for your ice cream per the recipe and then chill the ingredients in a bowl for 30 minutes in a refrigerator.
Step 4
Slide the beater into the grooved slot inside the canister and lock it in place.
Step 5
Fill the canister with the chilled ingredients until approximately two-thirds full and then secure the lid on top of the canister.
Step 6
Place the canister into the indentation located on the bottom center of the freezer.
Step 7
Place the motor into its position on top of the canister and connect the motor's wires to the electrical terminals at the base of the canister. Secure the motor by pressing the "Lock" button.
Step 8
Place 3 inches of crushed ice into the freezer and then place ½ cup of rock salt over the ice. Pour 1 cup of water over the ice and salt to help it freeze. Continue layering the ice, salt and water until the freezer is full.
Step 9
Turn the machine on and let it run for 30 minutes. After 30 minutes, remove the layers of ice and salt until you can get to the canister lid. Remove the lid from the canister and pack the ice cream down into the canister with a spoon.
Step 10
Place the cover back onto the canister, redistribute the ice and salt and then place the entire unit into a freezer for an hour.
Step 11
Remove the unit from the freezer, remove the canister from the ice cream freezer and then remove the ice cream from the canister and place it in a storage container.
---
Lisa Wampler began writing professionally in 2005 and has published on various websites. She specializes in content writing and search engine optimization, drawing from previous positions as an account manager and a social media manager for an SEO company.