Things You'll Need
Painter's plastic

120 grit sandpaper

1 quart of chalkboard paint

Flat-head screwdriver

Paint tray

Mini roller
Tip
Paint the edges of the piece of wood for a finished look. The chalkboard can be as big or as small as you want.
Transform a piece of wood into a chalkboard with chalkboard paint. Chalkboard paint comes in green or black colors and the final product works just like a slate chalkboard. Make a reminder message board for the kitchen or home office. A wall in a child's playroom can be transformed into a chalkboard. When the kids are done chalking up the wall, the chalk dusts off with an eraser. You can also wash the chalkboard with a wet dishrag.
Step 1
Lay a piece of painter's plastic down on a floor or table.
Step 2
Sand a piece of wood with 120 grit sandpaper to smooth out any rough wood grains. Sand back and forth and from side-to-side. Dust the piece of wood with a dry dishrag.
Step 3
Open a quart-sized can of chalkboard paint with the end of a flathead screwdriver. Stir the paint with a stir stick until well-mixed. Pour a 1/2 quart of paint into a paint tray.
Step 4
Dip a mini roller into the paint and roll it back and forth until the nap fibers are loaded with the paint.
Step 5
Roll the piece of wood with chalkboard paint. Roll up and down the width of the board. Roll out all paint lines or lap marks for a smoother finish.
Step 6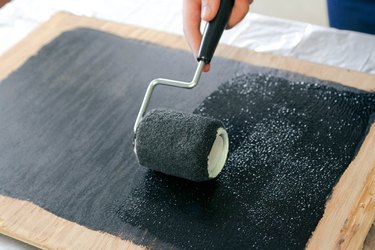 Wait 24 hours for the first coat of paint to dry. Apply a second coat of paint at this time. Wait 48 hours before using the chalkboard.
---
Cody Sorensen has been writing professionally since 2009. His online articles focus on his experience with painting, horticulture, construction, plumbing, home improvement and agriculture. Sorensen is a licensed truck driver, certified forklift operator and a journeyman painter. He studied organizational communications at Brigham Young University.