Things You'll Need
Clear plastic sheets

Measuring tape

Scissors or sharp knife

Staple gun

Industrial staples
Tip
Purchase clear plastic sheets -- thicker is better. Home improvement stores typically sell plastic sheet in large rolls or in specially designed porch covering kits.
If snow and rain still winds up inside the porch, seal the seams of the plastic with masking tape.
Pull the staples out of the porch frame with pliers when you remove the plastic.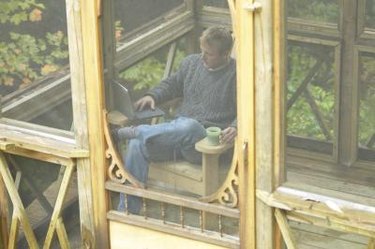 Screened-in porches provide homeowners with a breezy, protected outdoor area to relax in in the summertime -- but the same characteristics that make screened-in porches so desirable in hot weather cause them to suffer in the wintertime. The open spaces in the mesh screens allows cold wind, snow, sleet and freezing rain onto the porch. People who want to use their porch in the winter or who simply don't want to have to shovel their outdoor haven can cover the screens with thick sheets of plastic to deny access to inclement weather.
Step 1
Measure the height of your screen porch openings. Cut the plastic sheet 2 inches longer than the height of the window. If you use one sheet to cover an entire opening, ensure the sheet is 2 inches wider than the window.
Step 2
Hold a cut plastic sheet up against the screen outside the porch. Position the sheet in the corner of a framed opening, leaving approximately 1 inch of plastic over the frame on the top and side of the window.
Step 3
Staple the corner of the plastic sheet to the frame in the corner of the opening. After the first staple is in place, stretch the length of plastic along the frame at the top of the opening as tightly as possible. Staple the top of the plastic to the frame every 2 to 3 inches, keeping the seal as tight as you can.
Step 4
Pull the free-hanging plastic down to the bottom of the opening after the top is secured. An inch of plastic should overlap the frame at the bottom of the opening. Hold the plastic tight against the frame and staple the sheet to the bottom of the opening every 2 to 3 inches.
Step 5
Staple the side or sides of the plastic to the frame after the top and bottom are secure.
Step 6
Repeat the process until all the screens on the porch are covered. Depending on the layout of the porch, some sheets may have to overlap rather than be stapled to a side frame. Overlap the plastic sheets by 3 inches where they meet.
---
Brad Chacos started writing professionally in 2005, specializing in electronics and technology. His work has appeared in Salon.com, Gizmodo, "PC Gamer," "Maximum PC," CIO.com, DigitalTrends.com, "Wired," FoxNews.com, NBCNews.com and more. Chacos is a frequent contributor to "PCWorld," "Laptop Magazine" and the Intuit Small Business Blog.