Mainstays is a brand of furniture primarily sold by Wal-Mart and other major retailers. The furniture comes in boxes that are complete with all of the hardware required to assemble the product. Bookcases are sold in a variety of sizes with each model having three or five shelves. The process for assembling a five-shelf bookcase by Mainstays is the same as a three-shelf bookcase. The assembly of a Mainstays bookcase can be completed with just a few basic hand tools and the Mainstays hardware included in the kit.
Lay out the pieces of the bookcase. Look at the edges of each piece. Three edges of each piece will be unfinished and one edge will be finished. This side indicates the back of the book case.
Locate the left side piece of the book shelf, which is usually labeled with an "A." Find the locking turn nuts in the hardware bag. These nuts are round and have an "X" on one side for a Phillips head screwdriver.
Use a hammer to pound the locking nuts into the four holes on the inside of panel "A" and panel "B."
Locate the locking bolts in the hardware bag. There should be eight of them and they look similar to metal pins that are flat on one end and have a groove on the other end.
Use the hammer to pound the flat end of the metal pins into the four predrilled homes on pieces "C" and "D," which are the top and the bottom of the bookcase.
Insert the exposed part of the pins from piece "D" into the bottom of piece "A." The pins will slide into the lock nut. Use the screwdriver to turn the lock nut and secure the pins in place. Repeat this process for piece "B."
Place piece "C" onto the top of "A" and "B" and turn the lock nuts to secure the piece in place.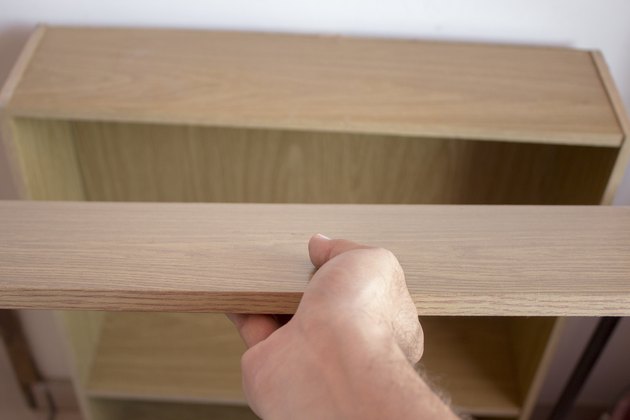 Locate the shelf supports in the hardware bag and place them at the desired height in the holes on the inside of the sides of the bookcase.
Slide the shelves onto the installed supports.