Things You'll Need
Building permits

Cleaning agents

Patching compound

Power tools and supplies

Framing materials

Insulation

Drywall

Doors and windows

Flooring

Primer

Paint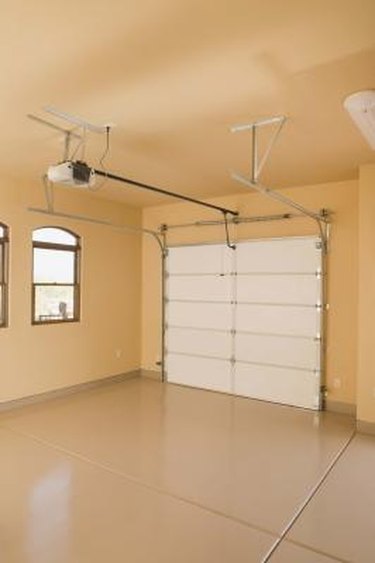 As your family grows and changes, your home may become more cramped. Moving is one option, but you may not be able to afford it. Likewise, you may not have the money to build an addition. Another option is converting your garage into a living space, like a bedroom and living room.
Step 1
Consult the building department in your community to acquire any needed permits and go over all the codes and restrictions that apply to your project.
Step 2
Plan out your converted garage space. You can hire an architect, but if you are a skilled DIYer you can plan the space yourself.
Step 3
Decide what work you will complete yourself, and what you need a contractor to do. Many municipalities require a licensed contractor for plumbing, electrical and heating, ventilation and air conditioning work. Even if your city doesn't require it, and you are fairly handy around the house, you still may want to hire a contractor for the plumbing and electrical work.
Step 4
Clean the garage floor. Use a degreasing or absorbing agent to remove oil stains from the concrete.
Step 5
Make any needed repairs to the garage floor. Patch small cracks by chiseling away the area around the crack and filling it with patching compound. If the floor has large cracks, or chunks of concrete are missing, you may need to hire a professional to repair the floor.
Step 6
Remove the tracks for the garage door, and frame the wall inside the door. You can keep the door in place in case a future owner wants to reconvert the space to garage use. You can also remove the door completely, but keep in mind that you then have to do exterior work to cover the gap where the door was located.
Step 7
Frame the other walls. Attach a sill plate to the floor next to the concrete wall with masonry screws. Build the frame for the wall, and then bolt it to the sill plate. Do this along all the walls, framing around windows where needed. This is also the time to insulate the walls.
Step 8
Complete any plumbing, electrical and HVAC work that must be done.
Step 9
Divide the garage into a living room and bedroom. Frame the walls separating these areas the same way you did the framing along the inside of the garage.
Step 10
Install the doors and windows.
Step 11
Install the drywall where needed, attaching it to the studs and ceiling joists with drywall screws.
Step 12
Put in the flooring system that you have chosen. Some flooring can go right over the cement. Other materials may need a subfloor.
Step 13
Cover the ceiling and walls with primer, and then paint them.
---
Carson Barrett began writing professionally in 2009. He has been published on various websites. Barrett is currently attending Bucks County Community College, pursuing a Bachelor of Arts in sports management.