Things You'll Need
2 cups liquid bleach

1 cup powdered soap

Petroleum jelly

Bucket

Plunger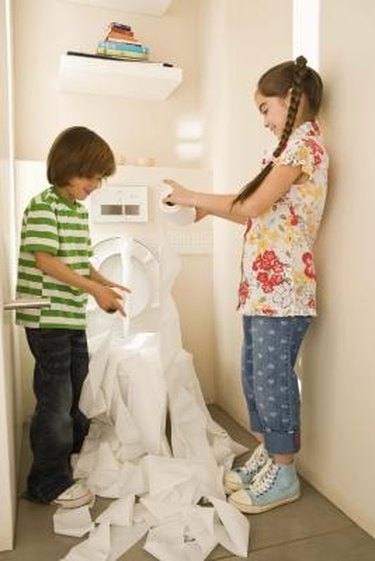 Toilets often become clogged with excessive amounts of toilet paper, tampons or other various objects. The drain of the toilet can only handle so much and when something too large is flushed, it ends up clogging the toilet. Powdered soap and bleach can be used to break down the items that have clogged the toilet. The chemical reaction between the bleach and soap causes the clog to break. Use a few household items to unclog your toilet and get it back to flushing properly.
Step 1
Fill a bucket with a gallon of water.
Step 2
Pour the water into the toilet bowl.
Step 3
Pour 2 cups of liquid bleach and 1 cup of powdered soap into the bowl.
Step 4
Pour more water into the toilet so that the water fills half of the bowl. Allow the water, bleach and powdered soap to remain in the toilet for 15 minutes.
Step 5
Depress a plunger over the clog and slowly jerk up to loosen the clog.
Step 6
Repeat steps 2 through 5 until the toilet is unclogged.
---
Diana Braun began her writing career as a consultant and technical writer for a software company focusing on how-to, training, white paper, and internal process documentation. After two years, Braun left to pursue her entrepreneurial dreams. Since then, she has launched several startups including a t-shirt business, an online marketing and advertising t-shirt distribution business, and an entertainment site. She currently resides in South Florida.