Things You'll Need
Air compressor

Floor nailer

Flooring nails

Rubber mallet

Chop saw

Safety glasses

Work gloves
Warning
Always wear safety gear when operating power tools.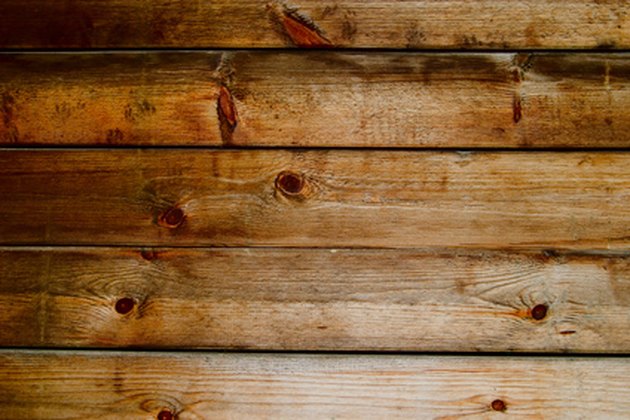 Wall paneling comes in a wide variety of lengths, types of wood and colors. While traditionally people have used it only on walls, depending on the type of wood paneling, such as with thicker oak paneling, it can also double for use as a flooring material. As long as the type of wall paneling you are thinking of using is thick enough and made of a durable enough wood, you can use it as flooring.
Step 1
Inspect the wood paneling to ensure that it is thick enough and sturdy enough to use as a flooring material. The wood should be at least 1 inch thick (or ¾ inch for areas such as closets where there is little foot traffic) and there should be no warps in the planking. If you are dealing with older woods, check for weaker sections and see if you can simply cut them out, leaving the rest of the board good.
Step 2
Mark the pieces of wood to fit over the substrate that is already in place (normally plywood). Put on your safety glasses and work gloves prior to operating the chop saw, and cut any pieces that need it. Dry lay the floor (cut the pieces to fit and lay them together without actually installing them).
Step 3
Put foam padding or glue underneath the wood if you wish. Tap a piece of wood into place with a rubber mallet and nail it with the nail gun. Work your way down an entire row and then work your way back along the next row, butting up each new row against the previous ones. Repeat this process until you have finished the entire room.
---
Tim Anderson has been freelance writing since 2007. His has been published online through GTV Magazine, Home Anatomy, TravBuddy, MMO Hub, Killer Guides and the Delegate2 group. He spent more than 15 years as a third-generation tile and stone contractor before transitioning into freelance writing.