Tip
If you want to just get rid of your mobile home you could donate it to a charity or to the fire station for use as a practice burn. There's no immediate benefit, but you can claim it as a tax deduction at the end of the year.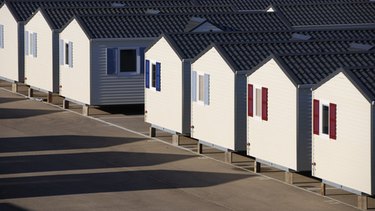 If you have a mobile home that you really don't want anymore then there are a variety of things you can do with it to get it out of your possession and off to a more useful life. If you want to just scrap your mobile home then you need to find out where you can take it, and what parts of the mobile home will be accepted. Anything that you can't scrap after all will need to be disposed of somewhere else.
Step 1
Evaluate your mobile home. If the home is road worthy then you might be able to just drive it to a scrap yard, or someone might accept it in one piece. If on the other hand your mobile home is damaged, then you might need to get someone to take it from your property, or you might have to dismantle it there and move it in pieces.
Step 2
Call all of the scrap dealers in your local area. You should check your local Yellow Pages under Scap Yards and do an Internet search for scrap yards in your area. Ask if they accept whole mobile homes for scrap. If they do you can simply bring your mobile home to the yard and have it scrapped. If not then you'll need to dismantle your mobile home yourself and take out all of the valuable pieces.
Step 3
Transport your mobile home to the scrap yard of choice. If you can bring it whole, bring it whole. If not, then strip it apart at home and separate the valuable materials like copper wiring, metal plates, aluminum and steel and then bring these items separately to the scrap dealer. Dispose of any left over parts in your garbage or recycle them if they can be recycled.
---
Neal Litherland is an author, blogger and occasional ghostwriter. His experience includes comics, role playing games and a variety of other projects as well. He holds a bachelor's degree in criminal justice from Indiana University, and resides in Northwest Indiana.