Knape and Vogt or "KV" hardware is a line of full extension drawer guides that allow the drawer to emerge completely out of the cabinet. The drawer is held in place by two small positive lever releases located on the back corners of the drawer runners on both sides. These levers prevent the drawer from coming all the way loose from the mounting hardware. To completely remove the drawer from the cabinet, it's necessary to trip the levers with your fingers.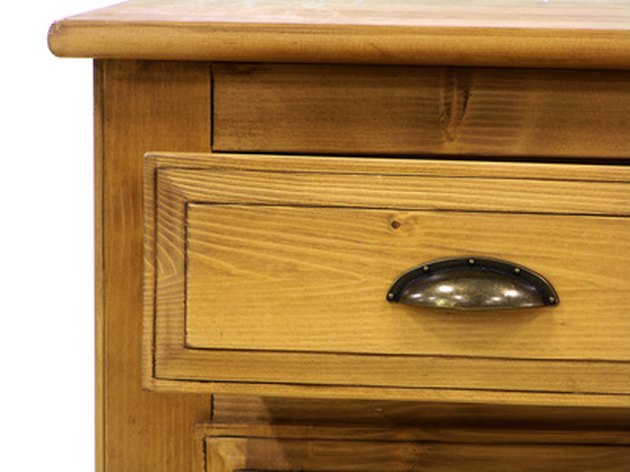 Step 1
Pull the drawer out to its fullest extension.
Step 2
Place your left thumb on the left side of the drawer on top at the back of the drawer. Place your right thumb on the right top of the drawer at the very back directly opposite your left thumb.
Step 3
Reach down with your index fingers on both sides. Let your index fingers go inside the metal runners screwed to the sides of the drawer. You should be able to feel a small plastic lever inside the runner. Pull up on the levers on both sides at the same time.
Step 4
Pull out on the drawer as you hold the levers up with your index fingers. The drawer will slide free of the extension. Hold on to the drawer.
Step 5
Install the drawer in the same manner. Hold the drawer with your thumbs on top; with your index fingers holding the levers up inside the runner, slide the drawer back into the receiving cabinet runners. You should hear a small "click" when the trip is engaged.