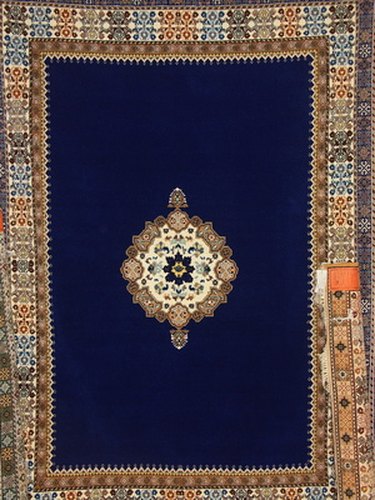 The Bissell ProHeat ClearView Plus is a deep cleaner for carpets and bare floors that includes a built-in heater to warm up the water and the cleaning formula in the machine to lift out ground-in dirt from surfaces. The device offers a 12 amp power motor and a rotating, six-row brush system. Vacuum the surface area to be cleaned with a standard vacuum cleaner prior to using the carpet cleaner for the best results. Operating the ProHeat ClearView cleaner is relatively simple.
Step 1
Take the "SmartMix" bottle out of the base of the machine and turn the bottle over to access the cap. Open the cap and fill to the mark on the side of the bottle with Bissell brand cleaning formula. Replace the cap and set the bottle back in the machine.
Step 2
Step on the handle release to move the machine handle down and lift out the water tank. Rotate the water tank handle forward and lift off the lid. Fill the tank to the neck with hot tap water. Close the lid, replace the tank on the machine and click it into place.
Step 3
Plug in the machine and turn on the "Power" switch. Turn on the "SmartTemp" switch to begin heating up the water and cleaning formula. Wait two minutes before using the machine to allow sufficient time for the unit to heat.
Step 4
Set the "ReadyTools" switch to the desired setting and the "SmartMix" setting to the desired cleaning setting. Use "Normal" for most cleaning surfaces.
Step 5
Press the cleaning trigger and make a slow pass over the area to be cleaned. Let go of the trigger and make another pass to suction up the dirty water. Repeat over the entire surface to be cleaned and continue making passes over the area until water is no longer sucked into the machine.
Step 6
Turn off the power when finished. Remove and empty the water tank and rinse. Place the tank back into the machine. Unscrew the "Flow Indicator Cap" and rinse the frame and the filter. Replace in the tank.
Step 7
Store the machine in a clean, dry area.
---
Meredith Jameson writes early childhood parenting and family health articles for various online publications. She holds a Bachelor of Arts in history from San Francisco State University.