Not every clogged toilet requires the services of a professional plumber. In fact, many clogged toilet drains can be remedied at home at little to no cost to you. If you experience a clogged toilet, it's best to attempt to remove the blockage by mechanical means first. Using a force-ball plunger will often do the job. If you have access to a plumbing snake or auger, these work especially well at removing stubborn clogs. Of course, certain chemicals also help to loosen or dissolve toilet blockages.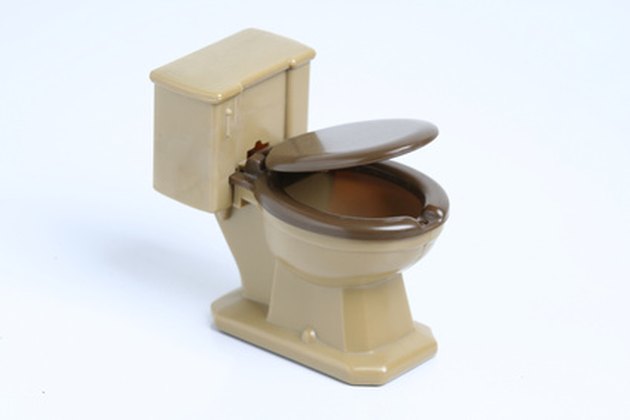 Common Household Chemicals
Step 1
Use an old cup to remove excess water from the bowl, if necessary. Dump the water into a plastic bucket. Leave enough water in the toilet bowl to cover the plunger.
Step 2
Squirt some dish soap/detergent into the toilet bowl. Approximately 3 tbsp. to 1/4 cup of detergent will suffice. Allow the soap to remain in the bowl.
Step 3
Boil approximately 1 gallon of water in a large pot or kettle. Then carefully pour the hot/boiling water into the bowl.
Step 4
Wait 10 to 20 minutes and then use the plunger to force the hot water and soap down the toilet's drain. The hot water should help dissolve the clog, while the dish soap lubricates. Plunge at least 10 times. The clog should break free. If not, repeat the process. Once the clog has been removed, you can flush any toilet water collected in the bucket down the drain.
Commercial Drain-Cleaning Chemicals
Step 1
Read the instructions provided with your chemical drain cleaner. Use only the amount indicated on the label. Also, if necessary, ventilate the room by opening a window, door or by using a fan. Use rubber gloves and a face mask whenever handling the drain cleaner.
Step 2
Remove any excess water from the toilet bowl using an old cup. Place the water in a plastic bucket and set it to the side. Leave enough water in the bowl to cover the plunger or the amount recommended by the drainer-cleaner manufacturer.
Step 3
Place the recommended amount of commercial drain cleaner into the toilet bowl and allow it to remain there. The exact time will vary from manufacturer to manufacturer. Again, the amount of time required will be listed in your drain cleaner's instructions.
Step 4
Use a force-ball plunger to plunge the toilet or simply flush the toilet. Again, the exact directions will vary amongst the different types of chemicals. Continue plunging as needed until the clog is dissolved or breaks free. Do not continue flushing, however, if the clog fails to dissolve. If the clog isn't removed, repeat the procedure as advised on the drain cleaner's instructions.