Corrugated metal wall panels are pieces of ribbed metal used to cover or protect a wall. They are a popular choice for siding walls because they are durable and easy to install. If you have a wall or a few walls to cover, a corrugated wall panel dealer has the components you need for your structure. Take measurements of your walls and window openings with you when buying the panels to get the correct-sized panels and parts.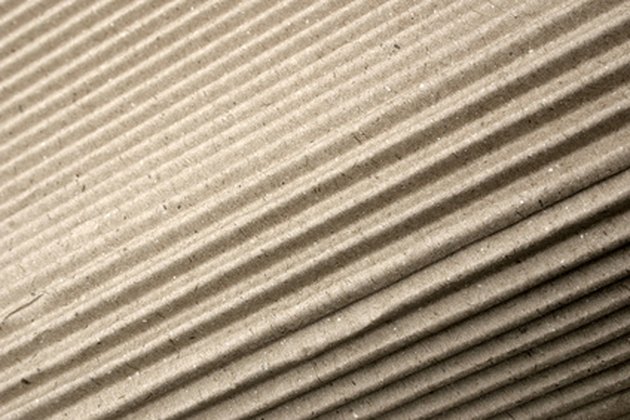 Step 1
Cover the wall with a self-adhesive underlay, such as roof underlay. Overlap the underlay by six inches at every seam and cover the entire wall.
Step 2
Make 45-degree cuts with a utility knife from each corner of any window openings. Create four triangles that point in toward the middle of the window.
Step 3
Surround the window opening with a waterproof membrane. The membrane should extend nine inches past the edge of each side. Secure each inside corner of the window opening with flashing tape. The flashing should cover the inside of the frame and extend over each side of the wall a bit.
Step 4
Cover the waterproof membrane with another layer of underlay.
Step 5
Apply a bead of sealant to the bed of the wall. This is the lowest point of the wall where you will be installing panels.
Step 6
Lift the bottom edge of the underlay up and place the bottom starter piece against the sealant.
Step 7
Lower the underlay so it overlaps the starter piece. Lay all of the bottom starter pieces along the lower edge of the wall in the same way.
Step 8
Attach the corrugated panels, working from the bottom of the wall and moving upward. Insert screws every 36 inches to attach the panel to the wall, using a power drill.
Step 9
Overlap consecutive panels by six inches and secure the exposed edge with washers and screws.
Step 10
Cap any corners and edges with the appropriate pieces that came with the wall panels. These pieces have hidden clips on their interiors that attach them to corrugated panels. You'll need outside corner caps for walls that have exterior corners and inside caps for interior corners. Window frames have their own special caps.