Things You'll Need
Hot water

Large bucket

1/3 cup borax

1/2 cup vegetable oil

1/2 cup vinegar

Long spoon or rubber glove

Mop or sponge

Vinegar (optional)
Warning
Borax can be dangerous to inhale when in a dry state. To avoid risk, thoroughly rinse the borax solution from the floor before it dries.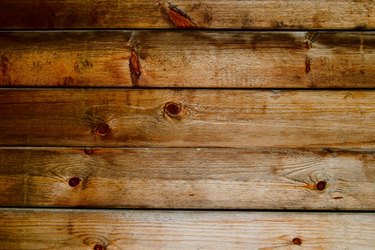 Borax is one of nature's wonderful cleaners that is very versitile. Cleaning hardwood floors with borax is a simple process with many benefits that commercial floor cleaners cannot offer. Borax is not only safe on hardwood floors but is also helpful in removing acidic stains and odors such as cat urine and is a natural deterent for flees.
Step 1
Fill a large bucket with 1 gallon of hot water.
Step 2
Add 1/3 cup of borax, 1/2 cup of vegetable oil, and 1/2 cup of vinegar to the hot water and swirl with a long spoon or your gloved hand until borax dissolves.
Step 3
Saturate mop or sponge in borax mixture.
Step 4
Mop floors with the borax solution in the direction of the wood grain.
Step 5
Rinse the borax solution off the floor with clean, damp mop or sponge.
---
Rachael Lingerfelt has been writing since 2009 and occasionally publishes in Bozeman Montana's Community Food Co-Op's online newsletter about food and nutritional topics. She received her Bachelor of Arts in English from Montana State University.