Tip
Regular cleaning and maintenance of the system will help prevent problems.
Warning
Do not attempt to access the electronic or mechanical components of the system.
Care must be taken when adding chlorine stabilizer. Follow the manufacturer's guidelines.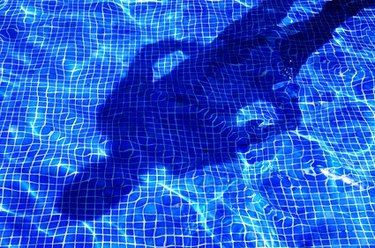 AquaPure is a salt chlorine generating system used to sanitize your pool, using a closed-loop water-softening system. As with any electronic and mechanical systems, problems can occur. While some problems are technical enough that they require the attention of a qualified professional, others have a simple solution and you might be able to troubleshoot these yourself.
Low or No Chlorine
Step 1
Add chlorine stabilizer as required. Chlorine stabilizer content should be 50 to 75 PPM. For every 50 pounds of salt, 1.25 pounds of stabilizer should be added.
Step 2
Increase the system's daily operating time.
Step 3
Increase chlorine production by pressing the "chlorine production rate adjustment" button.
Step 4
Enable "boost" mode and run for 24 hours.
Step 5
Press the "test salinity" button. If salinity is low, more salt may need to be added.
Step 6
Clean the cell if it is dirty or clogged.
Screen is Blank
Step 1
Check that the unit is connected to a power supply and the pump is switched on.
Step 2
Fully insert into the connector the ribbon cable between front and back PC board.
Step 3
Properly connect the connector at the white plug between the transformer and back PC board.
No "Cell On" Indicator
Step 1
Ensure "chlorine production" setting is not set to "00%." Adjust to desired percentage.
Step 2
Clean and/or unblock cell as required.
Step 3
Plug in the "flow/temp/salinity" sensor.
"No Flow" Indicator Stays On
Step 1
Unclog the strainer baskets if necessary.
Step 2
Correctly align all valves.
Step 3
Clean or unclog filter if required.
Step 4
Plug in the "flow/temp/salinity" sensor.
Step 5
Remove the "flow/temp/salinity" sensor. Clean the sensor and reinstall.
---
Paul Travers has worked as a freelance journalist since 1990. He has worked primarily for "Kerrang!," the U.K.'s leading rock magazine, but he has also published online content and in print publications worldwide, from "MusikExpress" in Germany to "Smash Hits" in Australia. Travers holds a Bachelor of Arts in journalism and media studies from the University of Central Lancashire.