Since the introduction of OSB (oriented strand board) into the building market in the late 1970s, it has become increasingly more popular and widely accepted. It is currently as well respected, on a thickness-by-thickness basis, as plywood products in residential and commercial building. It can be used as an exterior sheathing product as long as it is protected from the elements. Painting the exterior surface of the OSB is a good way to add a durable protective layer that will blend well with the overall exterior look of a structure.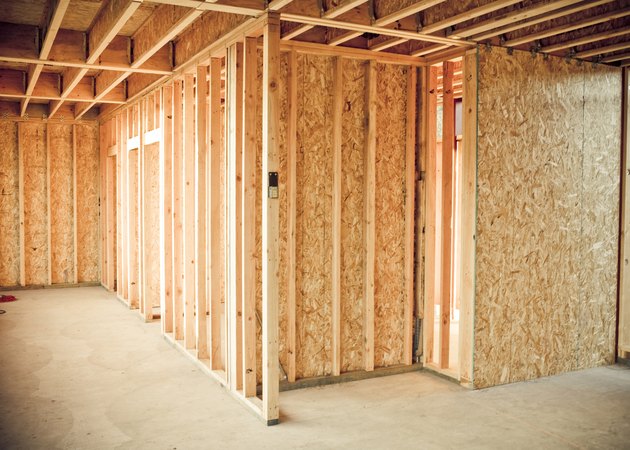 credit:
Hans Hansen/Lifesize/Getty Images
Step 1
Install each OSB board so the smooth side faces out. Spread paintable wood filler over the smooth surface of the OSB board with a joint knife to fill in all of the holes left during manufacturing. This will create a smooth surface to be primed and painted.
Step 2
Allow the paintable wood filler to dry. Sand the wood filler down with an electric palm sander and 150-grit sandpaper to create an ideal surface for priming and painting.
Step 3
Blow the sawdust off of the sanded surface with the help of an air compressor with a blowing attachment.
Step 4
Pour exterior-grade paint primer into a paint tray lined with a disposable paint tray liner. Slide a roller cover onto a paint roller and apply paint primer to the roller cover. Coat the entire OSB surface with primer. The primer coat should be heavy and even. Allow the primer to dry according to the recommendations on the paint can.
Step 5
Apply exterior-grade paint to the primed surface as soon as the primer is dry enough to accept paint. Drying times will vary based on weather conditions. Apply at least two coats of paint over the primer.