A simple table top podium is a useful tool for businesses, schools and churches that have multipurpose spaces for lectures or presentations. A podium gives the speaker a firm stand for placing notes and other reference materials at a comfortable height angled toward the speaker for easy reading. The dimensions given are assuming a standard table height of 30 inches and an average adult speaker. Adjust the height of the podium face and sides to compensate for any changes you need.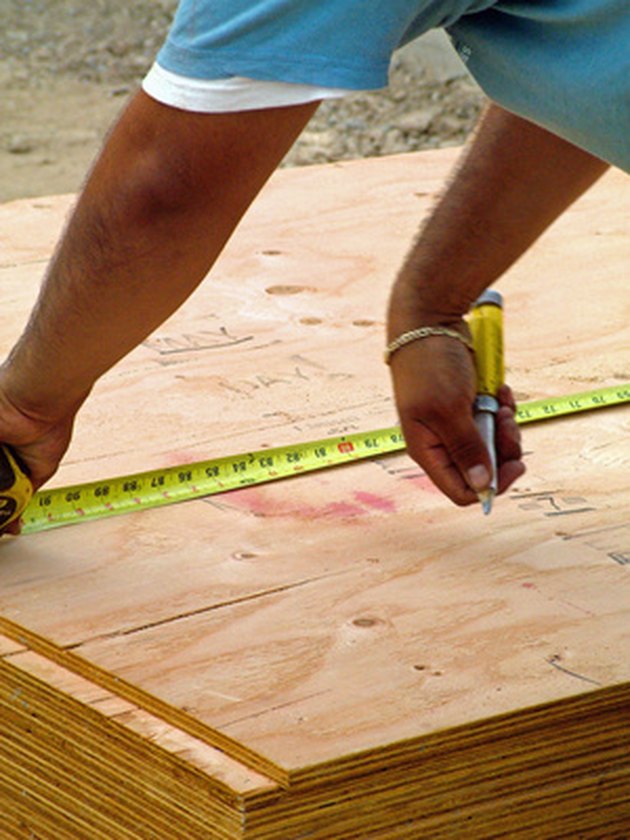 Step 1
Cut your podium pieces from ¾-inch cabinet-grade plywood. Cut a piece 18 inches wide and 20 inches long. Mark one short edge of this piece 8 inches from the 18 inch end. Mark the other edge 8 inches from the opposite end. Mark a diagonal line between the two and cut along it. This leaves you two pieces 18 inches wide, 8 inches on the short edge and 10 inches on the long edge. These are the sides of your podium.
Step 2
Cut the remaining pieces: one 24"x10¾" (the podium front), one 24"x26" (the podium top) and one 18"x22½" (the podium base). Set your table or circular saw blade to a 25-degree angle and cut one short edge of the 24"x10¾" piece to create a 25-degree bevel. This is your podium front. The mitered edge will match your side pieces, allowing the top of the podium to sit evenly.
Step 3
Mark the two side panels and the podium front 3/4 inches from their square bottom edges. Use a carpenter's square to make the mark all the way across the pieces, making sure the marks are on the inside of the pieces. These marks outline where you will install your podium base.
Step 1
Glue and nail the two side pieces to the podium front. Run a bead of wood glue along the 10-inch edge of each side panel. Set them flush with the edges of the podium front, with the podium front overlapping them. Make sure that the short side of your mitered edge on the podium front faces the podium sides. Use a pin nailer, a small-gauge, air-driven nailer with a compressor, to nail the pieces together.
Step 2
Run a bead of wood glue along the top edge of the podium front and sides. Set the 24"x26" piece centered on top of the podium. Nail it to the top of the sides and front.
Step 3
Run a bead of wood glue around the edge of the remaining plywood piece. This will be your base. Lay the podium flat on its front side and set the base inside the podium with the top side even with the marks on the sides and front of the inside of the podium. Nail the base in place.
Step 4
Fill all nail holes with wood filler and sand the podium with fine-grit sandpaper.