Pressure washers are essential for cleaning all kinds of exterior surfaces, including concrete and masonry surfaces. Safely remove mildew, oil and grease, and even graffiti by using baking soda with your pressure washer. Baking soda designed for "soda blasting" can be purchased from industrial cleaning suppliers for large projects or, for smaller projects, a small box of a baking soda from the grocery store can be used. Familiarize yourself with the operator's manual of your pressure washer to understand how to use soda with your particular model. Most pressure washers have a chemical attachment and nozzle that can be used for adding baking soda.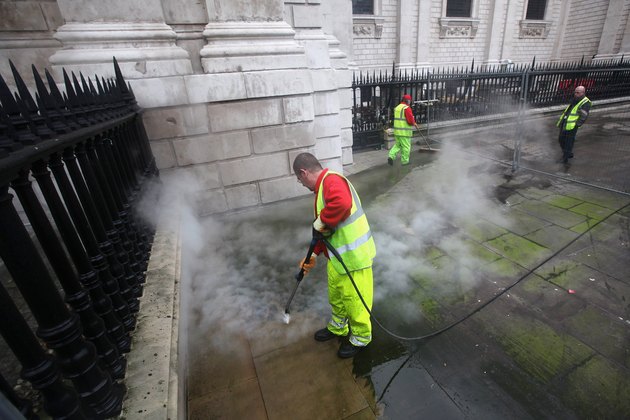 credit:
Oli Scarff/Getty Images News/Getty Images
Step 1
Do an initial pressure cleaning of the area with plain water to remove loose dirt and debris. Use a low pressure, between 90 and 300 psi, with a nozzle angle setting of 15 degrees.
Step 2
Add the baking soda to the chemical attachment or to the portable water unit. Use approximately one part baking soda to eight parts water (one 16-oz. box of baking soda to five gallons of water). Set the machine to hot, if possible. Cold-water washers can be used with baking soda, but using a hot-water washer with baking soda will more effectively clean heavily soiled surfaces.
Step 3
Start with 500 psi. Test the solution and pressure setting in an inconspicuous area to ensure that it will not damage the surface. Standing three to four feet way from the surface, coat the entire area with the solution.
Step 4
Change the nozzle angle setting to 5 degrees and increase the psi for a deep, penetrating clean. Increase the psi gradually, making sure that the amount of pressure is not damaging the surface being sprayed. Keep the psi at 500 for cleaning more fragile masonry.
Step 5
Rinse the area with fresh water.