Things You'll Need
Pumice stone

Baking soda

Damp cloth
Tip
The pumice stone must be completely wet or it will cause scratches to the white porcelain sink rather than fix it.
Purchase several pumice stones at one time because they wear away quickly when used to repair nicks and scratches on white porcelain sinks.
Don't wash aluminum and metal utensils and dishware in your white porcelain sink.
If the scratches or nicks are very deep, you may need to resurface the porcelain glaze.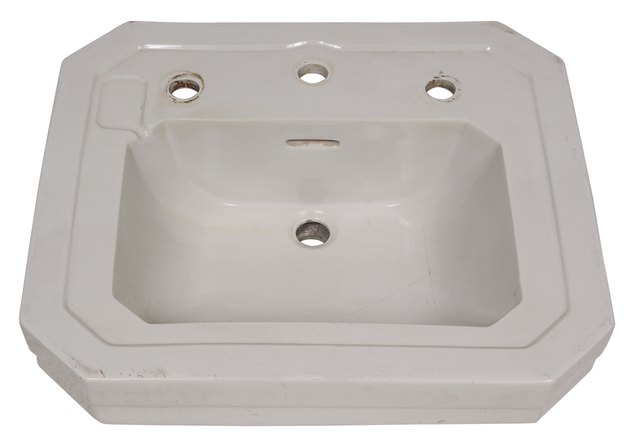 A white porcelain sink is a strong, durable sink that last for decades in a home without needing to be replaced. During the 1950s and 60s, many people installed pink, blue, yellow and other colors of porcelain sinks. White porcelain, however, is still the most common color of porcelain, and one of the easiest to notice nicks and scratches on. If you get a scratch or nick on your white porcelain sink and it is merely a surface scratch or ding, you can repair it with a pumice stone or baking soda.
Pumice Stone
Step 1
Plug your white porcelain sink with a drain plug, and fill it with ¼-inch of water.
Step 2
Dip your pumice stone into the water, and get it completely drenched.
Step 3
According to the "Reader's Digest" book "New Fix-It-Yourself Manual: How to Repair, Clean, and Maintain Anything and Everything in and Around Your Home," you should "buff the scratch marks and small nicks that appear on the inside surfaces of the sink, including the sides and top inside of the porcelain sink, with the pumice stone, dipping it in the sink water and buffing in the direction of the scratch or nick in a back and forth motion until the scratch or nick disappears."
Step 4
Remove the plug from the drain, and empty the sink of water.
Step 5
According to the book "New Fix-It-Yourself Manual: How to Repair, Clean, and Manintain Anything and Everything in and Around Your Home," "buff the scratches and dings on the bottom inside surface of the sink with the pumice stone in the same manner you removed them from the inside top and side surfaces of the sink."
Baking Soda
Step 1
Sprinkle baking soda over the length of the scratch or cover the entire nick with the baking soda.
Step 2
Buff the scratches and nicks with a soft damp cloth, rubbing the baking soda the entire length of the scratch in a back and forth motion and using a circular motion to repair the nicks.
Step 3
Rinse the baking soda from the white porcelain sink with tap water.
---
J. Taylor Ludwig holds a B.A. in business management and an M.A in media communications. She has worked as an investigative journalist and spent several years in the banking industry. Ludwig has been writing for more than 20 years and has published two nonfiction books.