Oriental rugs experience a great deal of wear and tear, due to daily use. The decorative fringe along the edges often unravels or becomes detached from the body of the rug. Owners of handmade or valuable rugs should have the fringe repaired by a professional, which is often a lengthy and expensive process. Those with inexpensive machine-made rugs and basic sewing skills can replace the damaged fringe themselves for the small cost of a few yards of replacement fringe.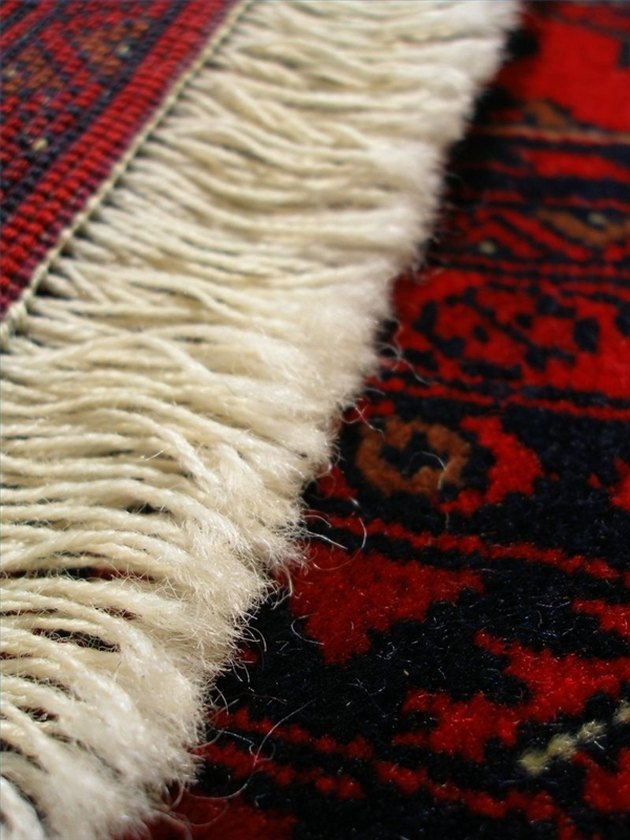 Step 1
Purchase a pre-made replacement fringe from a fabric store to match the damaged fringe. Fringe is generally sold by the yard. Make sure to buy enough to replace the entire length of the fringe, not just the damaged section, plus a few extra inches.
Step 2
Sew a blanket stitch (a stitch that goes around in a loop along the border of the material) along the damaged area using a strong waxed thread to reinforce the edge of the rug and prevent it from unraveling.
Step 3
Pin the replacement fringe to the base of the existing fringe. The replacement fringe should lie on top of the existing fringe. Allow an extra inch of fringe on each side of the rug.
Step 4
Fold the overlapping ends of the new fringe under the sides of the rug to form a secure border at each edge and pin them in place.
Step 5
Hand-sew the replacement fringe to the base of the existing one with waxed thread, making sure to completely cover the old fringe.
Step 6
Double-stitch the overlapping ends of the replacement fringe to the underside of the rug. This will prevent the replacement fringe from fraying at the ends.