Things You'll Need
Tape Measure

Webbing

Screws (if needed)

Washers (if needed)

Screwdriver

Drill
Warning
Check the aluminum frames for cracks that could render the chair unsafe.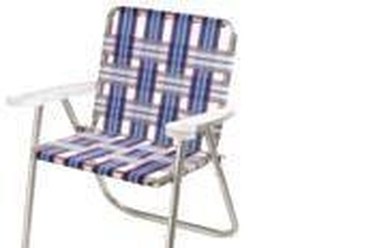 Lawn chairs with webbing become faded and stretched after years of use and exposure to the weather, and may become unsafe. Webbing is attached to the aluminum frames with screws or pop rivets, making replacement an easy way to give the old chairs more years of use. New webbing is available at home and garden centers and hardware stores and usually comes with new screws.
Step 1
Measure the existing webbing sections on the lawn chair. The replacement webbing is sold in rolls usually containing 39 feet of webbing. For large chairs it may be necessary to purchase more than one roll. If new screws aren't included in the package, purchase galvanized sheet-metal screws and washers.
Step 2
Remove the screws from the webbing and discard. Some chairs have the webbing attached with pop rivets. Drill the rivets with the smallest-possible drill bit, then remove pop rivets. Screws will be used in lieu of pop rivets to attach new webbing.
Step 3
Cut the new webbing to length using the old webbing for length or measuring across the lawn-chair frame to determine cut length. Add two inches to the length to fold the ends under when attaching.
Step 4
Starting at the back of the chair seat, lay the webbing across the seat and attach to the bottom of the frame. Use a washer on each screw. Fold the ends under before driving the screws into the frame. Continue across the chair-seat width until all webbing is in place. Pull the webbing firmly, but not so tight that it warps the aluminum frame.
Step 5
Starting at the front, attach the first piece of webbing that will run front-to-back and weave in and out over the pieces of webbing already attached across the width. Attach the end of the webbing at the back of the chair. Continue until all the seat webbing is in place.
Step 6
Follow the same steps for the back of the chair.
---
Myra Smith has retired from the business world after successfully working as a manager in the accounting field over twenty years. Smith received her education in Texas (high school) and Missouri (University of Missouri) business courses offered by employer. Smith has now embarked on an exciting second career as a writer for Demand Studios. Smith writes articles in the Home and Garden section.