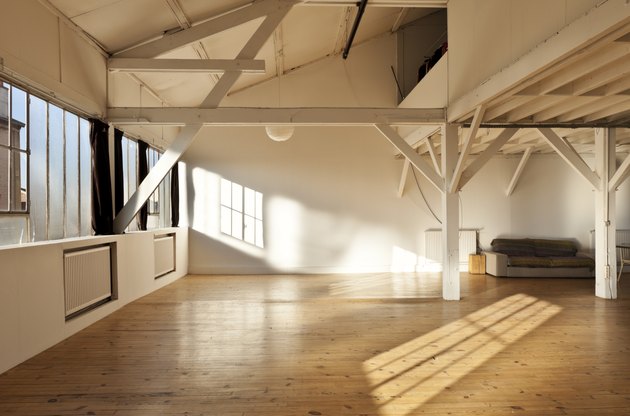 If you live in an open floor plan -- whether it's a modest studio or a sprawling penthouse -- you know that furniture arrangement can pose a challenge. An open floor plan is ideal for entertaining and maximizing space, but it lacks the privacy and functionality that more traditional layouts offer. You can remedy this problem by making your own room dividers.
Fabricate Some Privacy
Privacy can be hard to come by in an open floor plan, especially if your apartment doesn't have a separate sleeping area. Curtains are the perfect solution for your bedroom woes because they can be hung virtually anywhere and can be opened and closed to effortlessly adapt the space to your needs. Fabric panels may not make for sturdy walls, but they will bring some much-needed privacy to your sleeping quarters while adding elegance and softness to your bedroom. To create your makeshift room, simply suspend your curtains from the ceiling using tension wires or a ceiling-mounted curtain rod. Go bold with a bright color or geometric pattern to complement a modern space, pair a delicate floral pattern with classic vintage décor, or experiment with texture by choosing lace, burlap, silk, or velvet curtains to add visual interest and warmth to your home.
Build a Bookshelf Barrier
The wide open spaces of an open-concept layout can leave you hard-pressed to find storage. Without walls to visually break up your home, clutter can accumulate quickly and stand out like a sore thumb against all that open space. Combat your clutter by positioning a large bookshelf to act as a room divider while adding visually appealing storage. A bookcase with open shelving works best to create separation while complementing the natural flow of an floor plan. To prevent the shelf from tipping over, you'll want to anchor both sides to the floor using L-brackets.
Be Flexible with Folding Screens
If you're looking for a way to define your space that is as flexible as it is effortless, folding screens can't be beat. Using these centuries-old decor staple as your room divider, changing your layout is as simple as picking up your screen and moving it, making it ideal for someone who has a hard time committing to a particular arrangement. Select a folding screen carved from wood for a classic and elegant look, add a chic country touch with a floral-patterned fabric screen, or invoke an urban industrial feel with a metal screen.
Float a Faux-Wall
Functionality isn't the only reason to consider adding a divider to your open floor plan. Suspending floating panels from your ceiling is sure to make a modern and dramatic statement that marries art with function. Display your panels by installing hooks to your ceiling -- you'll want two for each panel. If you are unable to locate studs where you'd like to hang your panels, you can use toggle bolts instead. You can use lengths of chains, ropes, or wires to hang your panel. Just secure one to both sides of the top of your panels and attach an S-hook to the top, which will hang from the ceiling hooks. Achieve a shabby-chic look by using old windows, add a glamorous vibe with mirrors adorned with gold, or show off your artistic side by painting wooden panels.
---
Based in New York City, Jennifer Blair has been covering all things home and garden since 2001. Her writing has appeared on BobVila.com, World Lifestyle, and House Logic. Blair holds a Bachelor of Arts in Writing Seminars from the Johns Hopkins University in Baltimore, Maryland.