Stoneware is pottery fired to a high temperature (about 2300 degrees F). In about 1720, American potters began producing a form of stoneware developed in Europe centuries earlier---stoneware glazed with salt and decorated with cobalt blue. Salt-glazed stoneware was common in 19th-century America, and potters produced it all over the country, often stamping it with their maker's marks. Today, antique American stoneware crocks, jugs, pitchers and other items are extremely collectible and often very valuable.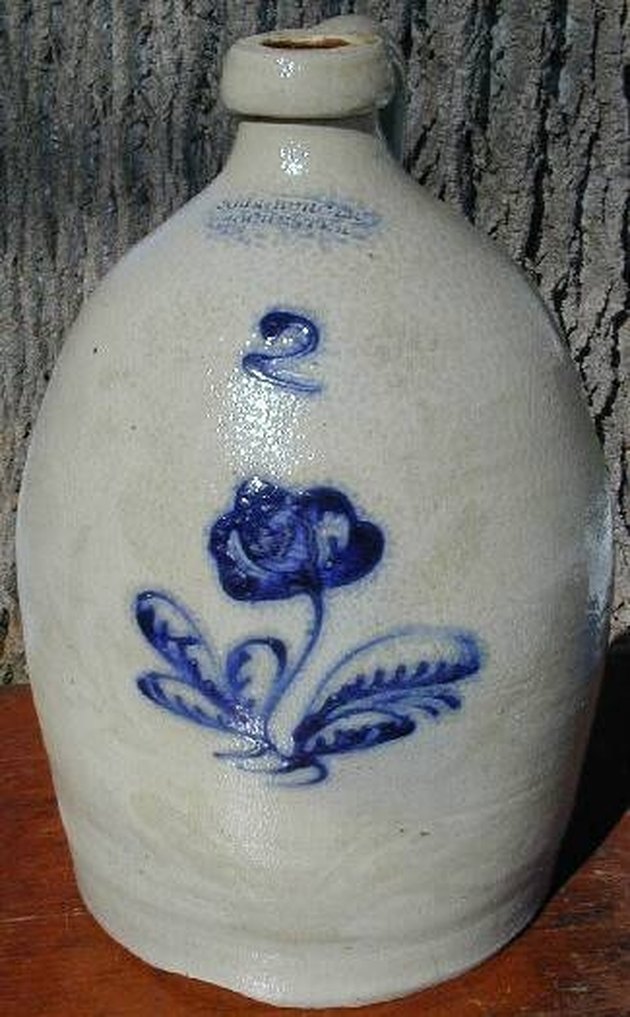 Determine the exact wording of the maker's mark. A slightly incorrect transcription of a potter's name or city can mean a fruitless search. If you feel confident that you can read the mark properly, skip to step 3.
Step 2
If unable to read the mark, there are a couple of techniques you can use.
First, try different lighting sources and angles of light. A crock or jug taken out in the sunlight might yield details not seen indoors. Taking a bright light and angling it parallel to the crock's surface can help accentuate impressions in the clay.
Try a rubbing. Take a piece of paper and place it over the mark. Rub it with the edge of a pencil point and see if the result yields new details.
If you are still unable to read the mark in its entirety, see Tips.
Step 3
Use your favorite search engine to search for the maker's mark. Do not simply type the mark into the search form, but make sure you surround it with quotes so that you search for the exact phrase. This can help weed out unrelated hits.
If that doesn't work, take away the quotes and try again.
Step 4
If you do find one or more websites that reference your mark, you might find valuable information, or you might not. A reference might be nothing more than an eBay listing or antiques dealer website with no accompanying information. But there is plenty of good information on the Internet, particularly on high-quality auction company or dealer websites.
Step 5
Your best bet in locating information on a stoneware mark is to visit the website of a reputable auction house such as Crocker Farm, Inc. (see Resources). Even if the information isn't already available on the auction house's website, contact the auction house for a cursory evaluation of your stoneware free of charge, along with a complimentary pre-auction estimate.
Step 6
You can also try one of the many books on antique American stoneware. Some books are quite general, like "Decorated Stoneware Pottery of North America," by Donald Blake Webster, while others are very specific, like "The Pottery of the Shenandoah Valley Region," by H.E. Comstock. Some books are better than others, but many exist on this subject. Unfortunately, most (including the two excellent books mentioned above) are out of print.