Things You'll Need
High quality leather soap

Nubuck cleaning cloth

Soft clean cloth

High quality leather conditioner

Isopropyl alcohol
Tip
Test each conditioner or cleaner on an inconspicuous are of the leather before using it.
Warning
Avoid the use of harsh chemicals and abrasives on the leather.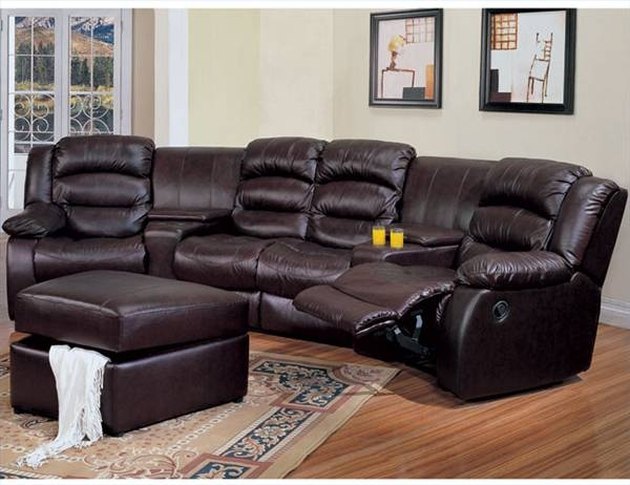 Top grain leather is a term that refers to leather taken from the top part of the hide. It is also sanded down greatly which gives it a very smooth consistency which is easier to clean than other forms of leather. Leather is a highly temperamental material that requires special care to keep from damaging it. With proper care, leather is a strong and durable material that can last for many years.
Step 1
Use a high quality leather soap or nubuck cleaning cloth to clean leather as it needs it. When choosing a leather soap, be sure that it doesn't leave a residue as this may be harmful to the leather by giving bacteria a place to thrive. This can eventually break down the leather.
Step 2
Condition leather at least twice a year to prevent drying out and cracking. Use a high quality leather conditioner and a soft clean cloth.
Step 3
Store the leather in a cool dry place. Do not cover leather in plastic as this may cause mold to grow on it.
Step 4
Wipe up spills immediately to prevent damage using a soft clean cloth. Set the leather item in a cool dry place to dry.
Step 5
Mix one cup of isopropyl alcohol to one cup of water to remove mold. Use a soft clean cloth dipped in the solution and dry using a soft clean cloth.
---
Melynda Sorrels spent 10 years in the military working in different capacities of the medical field, including dental assisting, health services administration, decontamination and urgent medical care. Awarded the National Guardsman's Medal for Lifesaving efforts in 2002, Sorrels was also a nominee for a Red Cross Award and a certified EMT-B for four years.