Tiling the top of your patio table is a simple craft project if you plan to lay square tiles over the surface. A more interesting way to make a tile top for your patio table is to design a mosaic and create a work of art that you will enjoy for years. You don't have to be an artist and installing mosaic tile is as simple as installing square tiles. You will spend more time making a mosaic tile top, but the results are well worth it.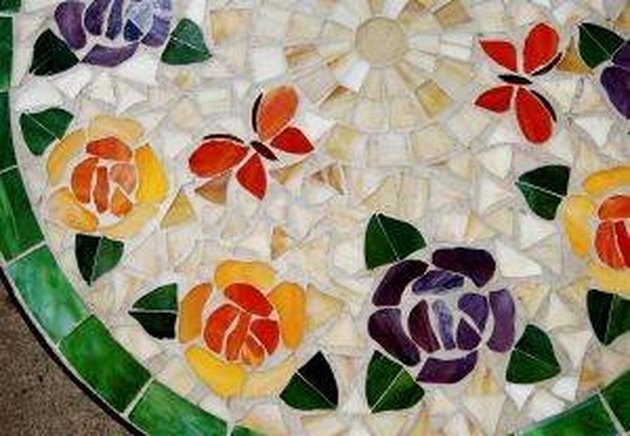 Step 1
Decide on a pattern for your table top and create a template that you can trace onto your table top. Simple flowers, hummingbirds or butterflies are a few designs to consider for your patio table. Trace the pattern onto the table top. A few well placed designs are all that you need to create an impact. For example, create a large flower in the center of the table or have four or five hummingbirds flying around the perimeter.
Step 2
Place a thin layer of Thinset inside one of your designs and press the tiles firmly into the adhesive. Trim your tiles by snipping them with a tile snip to make them fit your pattern. Tile all of your design elements before you fill in the background of the table top. The color of the tiles you select for your design elements should be noticeably different from the tile you select for your background.
Step 3
Fill in the background of your table by spreading Thinset in small sections and pressing the tiles firmly into it. Work in small sections to give you time to place the tile before the adhesive begins to set. Tile the edge of the table the same way as the table top. If you prefer, you can purchase border tiles for the edge of the table at your local home improvement store. Let the adhesive dry.
Step 4
Apply grout to the surface of your tiled patio table with a grout float. Make sure to press the grout into all of the crevices between the tiles. Grout will leave a film on the surface of the tiles, so make sure that you clean the table top with warm water and a sponge before the grout is dry.
Step 5
Apply grout sealer to protect the grout from stains and moisture.