It might appear unseemly to complain about cleaning up after you've discharged a fire extinguisher. After all, that little red contraption might have saved your life and the lives of your loved ones -- not to mention your home and prized belongings. But still, a mess remains. Depending on the type of fire extinguisher you used, what's left behind is either a fine, dry powder or a wet foam. Suit up to protect yourself, and then restore your home methodically. It's simpler than you might think, and it shouldn't take a terribly long time.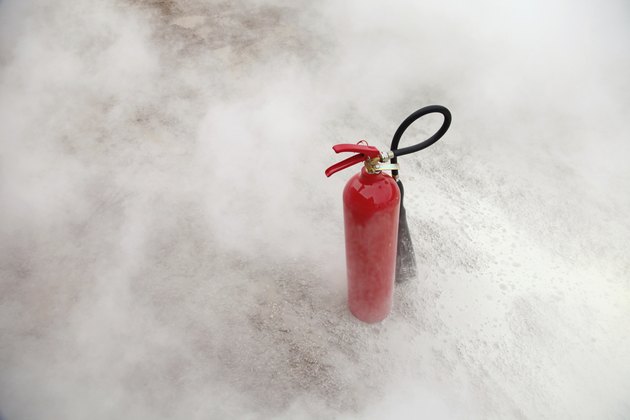 credit:
robertiez/iStock/Getty Images
Cleanup After a Powder Extinguisher
Step 1
Put on a face mask, eye goggles and gloves, since airborne powder particles can irritate your nose, throat, eyes and lungs. Open a window or turn a small fan on low to ventilate the area. Don't overdo it; air gusts will cause the powder to become airborne.
Step 2
Sweep up piles of powder with a brush or broom, working slowly. Discard the powder in a plastic garbage bag.
Step 3
Vacuum the rest of the powder with a shop vac. Follow up with a regular vacuum cleaner, using a brush attachment. Resist the urge to use water at this juncture; it can turn the powder residue into paste. Clean up any remaining residue with paper towels. Throw them into the garbage bag. Empty the shop vac and the vacuum canister, if applicable, into the garbage bag. Fasten the garbage bag and throw it away.
Step 4
Take window treatments and other fine fabrics to a dry cleaner's. Shampoo furniture and mop floors as you normally do. Deodorize window treatments and furniture by spraying them with white vinegar. You do not have to rinse the vinegar, and it will not harm fabric.
Clean Up After a Foam Extinguisher
Step 1
Put on goggles, a face mask and gloves. Open a window or turn on a fan to improve ventilation in the area.
Step 2
Scoop up the foam with paper towels or old rags that you can throw away. Try to lift the foam off the surface as much as you're able. Use an old spatula or spoon if it makes the task easier.
Step 3
Clean up any residue with wet paper towels or rags. Place all the soaked products in a garbage bag. Seal the bag and then throw it away.