A Honeywell humidifier can provide welcome comfort and relief in dry environments. Adding moisture into the air can also relieve congestion associated with colds or breathing disorders. However, if a humidifier is not cleaned it can be a source of bacteria, mold or mildew--all of which can irritate the respiratory tract. It is important to maintain a humidifier with regular care and cleaning. Regular cleaning will prevent mold and mildew growth and kill any bacteria that may be present. These cleaning guidelines apply to all Honeywell humidifiers, although specific cleaning information may also be provided in the humidifier care guide provided by the manufacturer.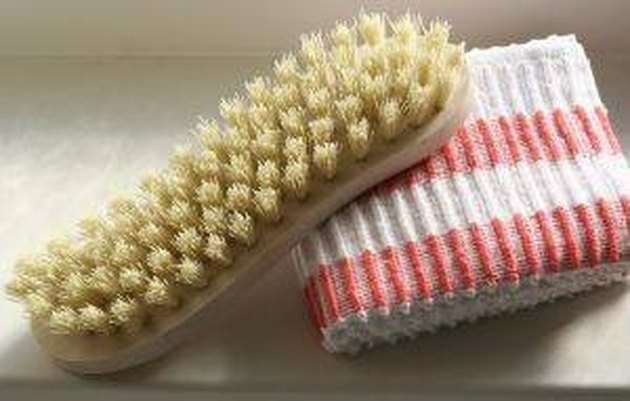 Step 1
Turn off and unplug the Honeywell humidifier.
Step 2
Remove the water reservoir/tank from the humidifier base and empty it of any water.
Step 3
Add one tablespoon of household bleach to the water tank and fill it with cool tap water.
Step 4
Return the cap to the water tank and tighten it. Turn the reservoir tank upside down several times to mix bleach/water solution. Allow the tank to stand with the water and bleach solution in it for 10 to 20 minutes.
Step 5
Empty the reservoir tank, then rinse it out several times with cool water. Wipe the outside of the tank with a wet cloth and mild cleaning solution, if needed.
Step 6
Lift the portion of the Honeywell humidifier that covers the filter of the humidifier base. Wipe the outside of this cover with a damp cloth, being careful not to get any water into the motor or the control knob. Wipe the inside of the cover with a dry cloth if it appears to be dusty.
Step 7
Consult the user's manual for your humidifier to see if the filter can be washed. If it cannot be washed lift the filter out of the base and replace with a new filter. If the filter can be washed, follow the manufacturer's instructions for cleaning.
Step 8
Fill the humidifier base with a solution of half white vinegar and half water. Allow the base to soak for several minutes. Scrub the inside of the base with a nylon brush or cloth. Do not use metal or other abrasives.
Step 9
Empty the base, then rinse it thoroughly with cool water.
Step 10
Insert the new (or newly cleaned) filter and reassemble the Honeywell humidifier.