A four poster bed is usually the focal point of any bedroom. Tall and dramatic, it can be dressed up or dressed down, depending on the style preferred by the owner of the bed and the size of the bedroom. In addition, there are some unique rules to follow when dressing a four poster bed, regardless of the style of dress. These rules are included in the tips below.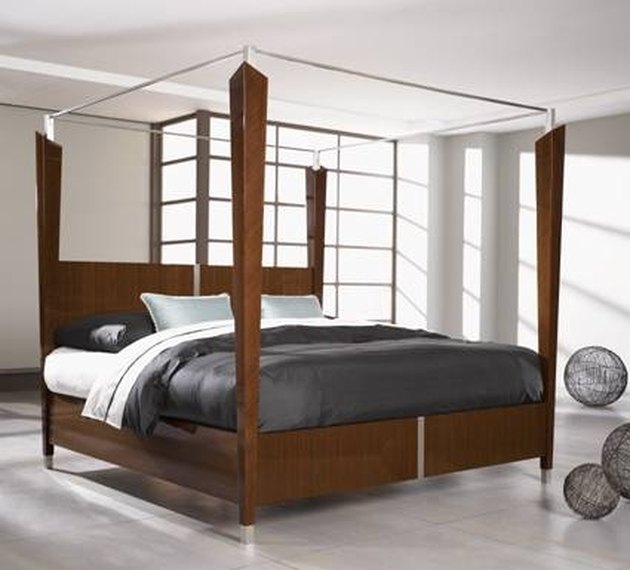 Step 1
Tuck in the corners. Pull up the sheets and blankets, and tuck them in. Nothing looks worse than blankets and sheets pooching out around one of the corner columns in a four poster bed.
Step 2
Keep it simple. A four posters bed is dramatic enough without adding a lot of fussiness to it. Choose a simple, elegant pattern or solid color for your bedspread. Drape the bedspread or comforter on top of the tucked-in blankets and sheets. Add some pillows against the headboard and some throw pillows as well, but not too many. Two or three are just right.
Step 3
Get rid of the bed skirt. Although many comforter sets come with a bed skirt (or dust ruffle), it tends to look silly on four poster beds. The columns in a four poster bed draw the eye upward. Putting a skirt on the bed confuses the eye, because the skirt draws the eye back downward.
Step 4
Add some dramatic flair. Although you do want to keep it simple, you can consider tying a swath of fabric from one column to the other. Only do this, however, if the fabric is lightweight gauze, and if the room is big enough to hold such a dramatic effect.
Step 5
Look under the bed. Many four poster beds sit high on their legs, which means you can clearly see what is under the bed. Part of dressing a bed is making sure that it is clean underneath. The clean effect of well dressed bed can be ruined by dust bunnies.