Changing out a tub for a walk-in shower can make a huge impact on the look and function of the bathroom. Many people prefer to create a walk-in shower that is large enough to allow for multiple shower heads and seating around the perimeter. While the basics of a walk-in shower are fairly easy to install, the process does take some time and some patience. You can enjoy the shower for years to come.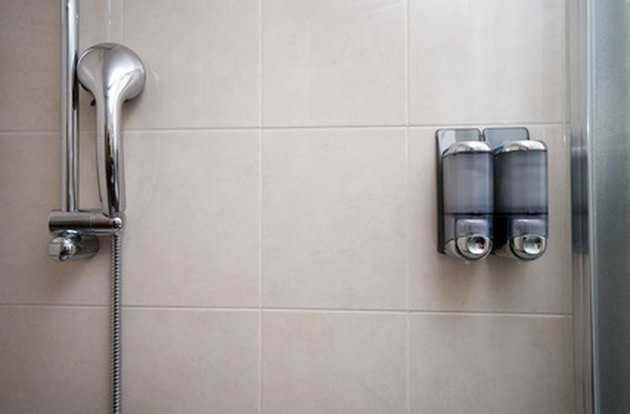 Step 1
Remove the tub or existing shower from the space. Make sure to remove any debris from the space where the new walk-in enclosure will be mounted. Thoroughly clean the space, including any tile that will be remaining in place.
Step 2
Realign the drain. This can be done by leaving the existing drain in place but running a show pan to the appropriate point in the center of the new shower. The show pan is connected to the existing drain, saving a great deal of time and money.
Step 3
Construct the walls for the walk-in shower. Keep in mind the walls can run from floor to ceiling, or simply rise to a height of five to six feet above the floor. For bathrooms with limited natural light, the three-quarter walls may be more desirable. Create the walls by using 2-by-4 lumber spaced 16 inches on center for wall studs. A framed wall should also include a 2-by-4 sill plate at the bottom, and two 2-by-4 headers doubled up at the top of the wall. This wall should be sheeted with water- and mold-resistant tile backer board.
Step 4
Complete the floor of the shower, providing a covering for the show pan and the line running back to the drain. This can be done by pouring a concrete slab. Allow the slab to set and cure before proceeding.
Step 5
Tap into the water line and install the shower heads. Make sure to turn off the water supply before starting this task. Test the heads to make sure they are working properly and there are no leaks before moving on to the next step.
Step 6
Repair any damage done to the walls or ceiling during the installation of the shower heads.
Step 7
Lay the tile on the floor, walls and ceiling of the walk-in shower. Tile should be adhered with a mastic or thin-set mortar. After tile has set, use grout to fill the spaces between each tile. Allow the grout to set 30 minutes and then wipe with a damp cloth. Allow another 24 hours for grout to dry.