Things You'll Need
Spray bottle

2 ounces white vinegar

Clean cloths

Nylon abrasive pad

Stainless steel polish
Tip
Be careful of metallic-edged magnets and other items you use to decorate your refrigerator as they can cause scratches. Keep the refrigerator clean. Gritty bits of dirt can cause scratches as they're rubbed across the surface.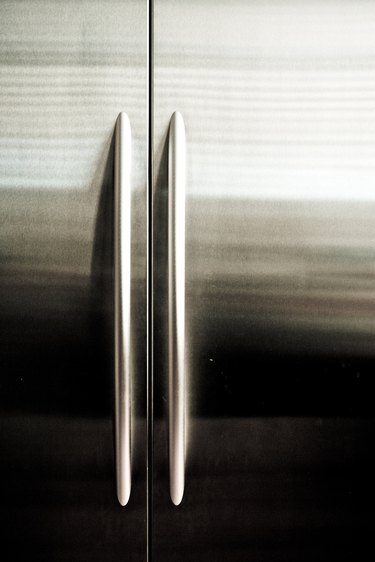 Stainless steel appliances enhance the appearance and functionality of your kitchen. An LG stainless steel refrigerator provides convenience and storage in addition to looking good in your kitchen. Despite the durability of stainless steel, it scratches easily. When scratches in the surface are left unattended, dirt and dust can collect in them and magnify the appearance of the scratch. You can repair surface scratches in your LG refrigerator by using the correct supplies and processes.
Step 1
Pour 2 ounces of water into a spray bottle. Add 2 ounces of white vinegar. Close the bottle and shake to mix the solution.
Step 2
Spray the vinegar solution onto the scratched area of your LG refrigerator. Wipe it off with a clean cloth to remove dirt and debris that could result in further scratches.
Step 3
Find the natural polishing lines of the surface of the stainless steel. Rub the nylon abrasive pad over the scratches while moving it in a direction that's parallel with the natural polishing lines. This helps blend the scratches into the rest of the surface.
Step 4
Wipe the stainless steel with a dry cloth.
Step 5
Apply a nickel-sized amount of stainless steel polish to a clean, dry cloth. Buff the polish into the stainless steel to fill in any remaining scratches.
Step 6
Remove excess polish by wiping it off with a cloth.
---
Mary Ylisela is a former teacher with a Bachelor of Arts in elementary education and mathematics. She has been a writer since 1996, specializing in business, fitness and education. Prior to teaching, Ylisela worked as a certified fitness instructor and a small-business owner.