Things You'll Need
Measuring tape

Two 1-by-4 pieces of lumber

Power saw or hand saw

Pencil

8 wood screws

Drill
Tip
If you want to paint or stain the legs, do so before you attach them to the headboard.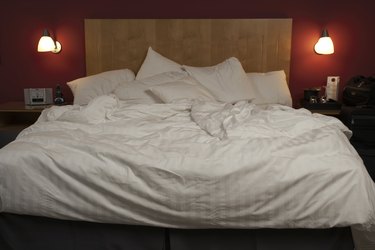 An upholstered headboard is covered with batting, foam and fabric that's attached with staples to the back of the piece. Upholstered headboards are easy to customize by removing the fabric and replacing it with another design. In addition to changing a headboard's covering, add legs to it so it sits at the height you desire. Use 1-by-4 pieces of lumber for the legs, which are available at home supply stores.
Step 1
Remove the headboard from behind the bed. Lay the headboard on a flat surface with the back facing up toward you.
Step 2
Measure the height of the headboard from the top edge to the bottom edge and subtract 2 inches. For example, if your headboard is 3 feet high, your number would be 34 inches.
Step 3
Factor in the height that you want the legs to add to the headboard. For example, if you want the legs to hold the headboard 12 inches off the ground, add 12 inches to 34 inches to get a final number of 46 inches.
Step 4
Cut two 1-by-4 pieces of lumber to the height you calculated, which is 46 inches in the example. Use a power saw or a hand saw to cut the pieces.
Step 5
Measure 6 inches in from the left and right edges of the headboard and 2 inches from the top edge. Mark each spot with a pencil.
Step 6
Place the top of the first 1-by-4 at the mark you made 6 inches in from the right edge. Use a drill to place four wood screws through the leg and into the back of the headboard, spacing the screws 1 to 2 inches apart. Use screws that are short enough to not show through the upholstery.
Step 7
Place the second 1-by-4 on the mark you made on the left edge. Screw it into place. Stand the headboard upright and return it to its original position.
---
Based in Richmond, Va., Dawn Gibbs writes about topics such as history, fashion, literature, crafts, alternative medicine and healthy living. Her work has appeared on GreenDaily.com and several style websites. Gibbs holds a Bachelor of Arts in history from Virginia Commonwealth University.