Things You'll Need
Paper

Pencil

Measuring tape

Fabric

Scissors

Pins

Sewing machine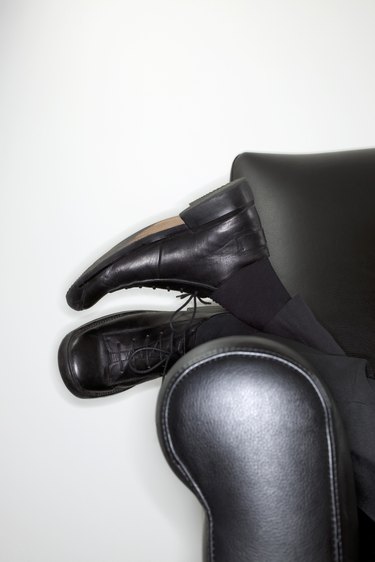 Protect the armrest on a leather couch by making an armrest cover using basic sewing skills. All you need is the ability to sew a straight-stitch on a sewing machine using a pattern based on the size of your couch. This simple do-it-yourself project takes less that one hour to sew two covers for your couch. A washable fabric lets you wash the covers if they become soiled, giving you a low-maintenance way to protect your furniture.
Step 1
Hold a piece of paper on the front of the armrest and trace the outline for a pattern that fits the curve over the top of the couch arm. Extend the sides of the pattern to a length of 6 to 8 inches, and add 1/2 inch around the entire perimeter of the pattern for seam allowances. Cut a piece of fabric using the pattern for the front of the cover.
Step 2
Measure the length from the bottom of one side of the pattern, over the top curve and down the opposite side with a flexible measuring tape to determine the width of fabric for the fabric cover.
Step 3
Determine the length of the armrest cover by measuring from the front of the arm to about 4 inches from the couch back. Cut the arm cover out of the fabric using the width measurements from the front cover and the length measurement of the arm.
Step 4
Pin one width side of the arm cover to the front cover so the right sides of the fabric are together. Sew the two pieces of fabric together with a 1/2-inch seam. Clip the seam salvage around the curve at a 1/2-inch spacing so the seam lies flat.
Step 5
Turn the raw edge around the bottom and back of the cover ¼ inch to the wrong side of the fabric and pin to hold the fabric. Turn the edge another 1/4 inch to the wrong side and pin it to hold it in place. Sew the hem with a straight stitch to secure it.
Step 6
Repeat each step to make an armrest cover for the other arm of the couch.
---
Jennifer Loucks has been writing since 1998. She previously worked as a technical writer for a software development company, creating software documentation, help documents and training curriculum. She now writes hobby-based articles on cooking, gardening, sewing and running. Loucks also trains for full marathons, half-marathons and shorter distance running. She holds a Bachelor of Science in animal science and business from University of Wisconsin-River Falls.