Things You'll Need
Clean cloth

Laundry detergent

Tennis balls

Vinegar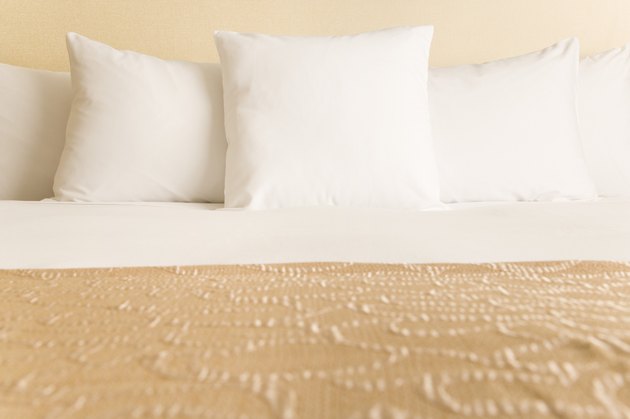 When you perspire while sleeping, you may be left with yellow sweat stains on your pillows. The stains may also be the result of drool. Some pillows feature a protective cover that you can simply unzip to remove; other pillows are unprotected. No matter what type you have, you can remove the yellow stains in a matter of minutes using basic household supplies.
Step 1
Remove the pillow's protective cover if it has one. Clean the pillow's cotton fabric directly if there isn't a cover.
Step 2
Saturate a portion of a clean cloth with liquid detergent. Choose a detergent formulated for removing protein-based stains, such as sweat.
Step 3
Rub the cloth into the sweat stain on the pillow or its cover to work the detergent into the fabric. Allow the detergent to penetrate the stain for at least 30 minutes.
Step 4
Place the pillow or its protective cover into a washing machine and wash it according to its care label instructions. Wash a down pillow in cool water on the machine's gentle cycle. Do not wash a foam pillow in a washing machine -- take it to a professional dry cleaner instead. Dry the pillow in a dryer on low heat. Place two clean tennis balls into the dryer with the pillow to keep its filling fluffy.
Step 5
Remove stubborn yellow stains with a vinegar and water solution. Combine one cup of white, distilled vinegar with a 1/2 cup of cool water. Apply the vinegar mixture to the stain with a clean cloth and allow it to penetrate the fabric for 30 minutes. Wash and dry the pillow or cover, according to care label instructions.
---
Elizabeth Arnold has written for a wide variety of publications and websites. Her experience includes writing travel features for "Recommend" magazine and packaging marketing copy for both Metro-Goldwyn-Mayer and Warner Bros. consumer products. Recently, Arnold was a staff writer for "Special Events" magazine. Arnold studied English at the University of Wisconsin-Milwaukee.