Things You'll Need
Broom

Dust pan

Bucket

Neutral cleaner

Nylon mop

Nylon brush
Tip
Don't let the cleaner dry on the stair treads.
Warning
Never attempt to clean your stair treads for at least 72 hours after they're installed.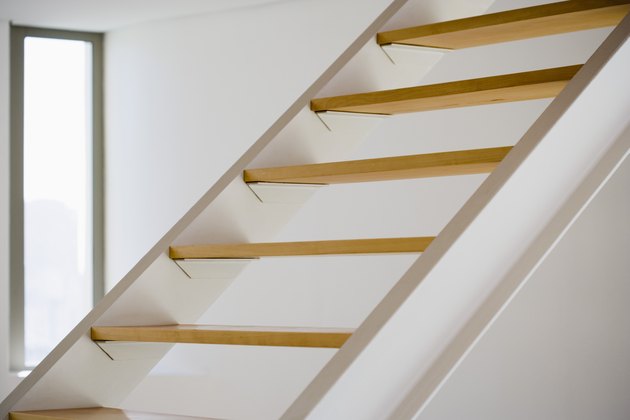 When safety is a priority, stair treads are a handy thing to own. They're professionally installed on stairs and add extra traction to help keep people from slipping or falling. Most stair treads are made from vinyl, metal or rubber. While each stair tread manufacturer has different recommended products for the cleaning and upkeep of stair treads, the cleaning process is fairly simple. Check your manual before beginning to make sure no special care is required for your particular stair treads.
Step 1
Sweep the stairs, starting at the top and working your way to the bottom. Focus on getting all the loose grit and dirt away from the stair treads.
Step 2
Collect the dirt in a dust pan and dispose of it in the garbage.
Step 3
Mix the neutral detergent in a bucket according to the package directions.
Step 4
Dip the mop in the cleaning mixture and swab the stair treads, starting at the top one and working your way down. Allow the mixture to pool in the treads, but do not flood them. Let the cleaner sit for 15 minutes.
Step 5
Fill your bucket with lukewarm, clean water. Rinse your mop thoroughly.
Step 6
Rub the cleaner into each stair tread with the nylon brush.
Step 7
Mop up the cleaner, starting at the top and working your way down. Mop the rest of the stair beyond the treads to ensure all cleaner is removed. Allow the stair treads to dry completely.
---
Melly Parker has been writing since 2007, focusing on health, business, technology and home improvement. She has also worked as a teacher and a bioassay laboratory technician. Parker now serves as a marketing specialist at one of the largest mobile app developers in the world. She holds a Master of Science in English.