Things You'll Need
Old sheet

Bucket

1 qt. white vinegar

1 cup baking soda

Wooden spoon

Ladder

Cotton cloths

Old toothbrush
Tip
Remove nicotine and other stains from fabric vertical blinds with a special rubber sponge made to clean them. Severe staining may require the attention of a professional. Open windows or fill ashtrays with charcoal-based cat litter to help lessen the effects of cigarette smoke on your home furnishings.
Warning
Cigarette smoke builds up on nearby surfaces whether they're porous or not. Take cigarettes outside to avoid stains and odors in the home.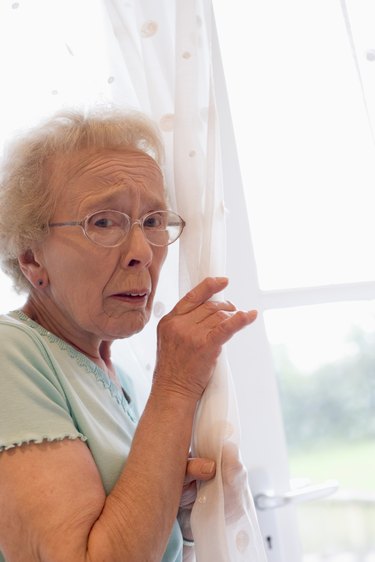 Vertical blinds allow light to filter into your room, but unless the window is open, cigarette smoke and nicotine stains stop at the surface of your blinds. The greasy film left by nicotine stains causes odor and discoloration on your vertical blinds. It's best to clean your blinds while hanging to prevent damage to the material. You can remove nicotine stains and odor from your blinds with supplies found readily around the home to regain a clean, fresh window treatment.
Step 1
Lay old bed sheets on the floor beneath the vertical blinds. Leave the sheets in place to catch moisture dripping off the blinds during the stain removal process.
Step 2
Combine 1 qt. hot water with 1 qt. white vinegar and 1 cup of baking soda in a bucket. Stir the solution to mix well.
Step 3
Position a ladder near the blinds for easier access to the top portions of the blinds. Soak a clean cloth in the grease-cutting solution and wring out excess moisture.
Step 4
Place the palm of one hand behind the vertical blind to support and hold it in place. Scrub a two-foot section of one side of the blind with the vinegar and baking soda solution. Apply more cleaning solution and repeat on the other side of the blind.
Step 5
Step down off the ladder and repeat Step 4 for the remaining length of the blind.
Step 6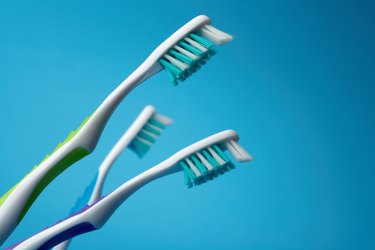 Dip a wet toothbrush in baking soda and use it to scrub any nicotine stains that are difficult to remove.
Step 7
Repeat Steps 4 through 6 for each individual vertical blind slat. Rinse each blind by wiping it off with a damp cloth. Dry the blinds with another cloth.
---
Mary Ylisela is a former teacher with a Bachelor of Arts in elementary education and mathematics. She has been a writer since 1996, specializing in business, fitness and education. Prior to teaching, Ylisela worked as a certified fitness instructor and a small-business owner.