Things You'll Need
Tape measure

Treated wood post

Post-hole digger

Scrap wood

Stepladder

Plumb line

Ready-mix concrete

Wheelbarrow

Shovel

1- by 2-inch treated lumber

Saw

Screws

Screwdriver

Thatching material

Wire or twine

Pliers or scissors

Drill

Nuts and bolts

Wrench

Garden shears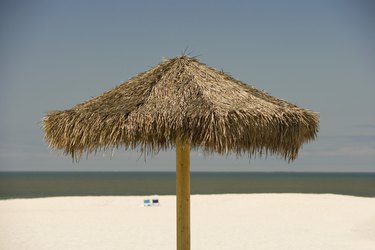 A thatched umbrella creates visions of the tropics, and resorts worldwide use thatching to create tropical scenes, palapas and tiki bars. Thatching is the practice of binding materials together to make a thick matted roof or covering. The most common materials used are grass, palm fronds, bamboo and reeds. The raw materials are bound tightly together with twine or wire to form an attractive and waterproof mat. Thatching is an art that requires many hours of practice to achieve an acceptable finished item, and with practice it may be possible for the average do-it-yourselfer to create a professional-looking thatched umbrella.
Step 1
Draw a plan of your umbrella. Measure the space available. Use an existing handheld store umbrella to figure out the design of the struts to make the framework, and calculate the length of each piece accordingly. Write down the measurements.
Step 2
Research thatching material online or at your local outdoor retailer. African thatch is made from very straight grass stalks and creates a very clean, tidy thatched finish, while Hawaiian, Mexican and Fijian thatch is made from palm fronds and has a more "shaggy" look. Reeds and bamboo can be purchased already woven and are usually neat in appearance.
Step 3
Install the support post. Thatch material is heavy, and thatched umbrellas need a strong support. Dig a hole 12 inches deep with a post-hole digger and install the post. Make certain it is not leaning by using a plumb line. Lightly hammer scrap-wood braces onto it to keep it in place. Mix a bag of concrete with water in a wheelbarrow with a shovel. Shovel the concrete into the hole around the post. Allow to dry for 48 hours.
Step 4
Measure and cut the 1- by 2-inch wood pieces for your umbrella framework. Lay them out flat and screw them together to make four pie-shaped sections with a lattice of crosspieces. Bolt the sections together to form a cone shape. Drill holes and bolt this structure to the top of the pole using galvanized carriage bolts.
Step 5
Attach the thatching material to the framework. Stand on a stepladder and lay a bundle of the material on the frame so the top is level with the top of the frame and it runs all the way down the framework to the bottom edge or beyond. Tie securely with twine or wire woven and wrapped over and around the struts of the framework. Repeat until the entire umbrella is covered in thatch. Spread one or more bundles over the top of the umbrella and weave the wire to secure it and prevent rain from coming in. Trim as necessary with garden shears.
---
Trish Jackson is an author, blogger and freelance writer. Her second romantic suspense novel, "Redneck P.I.," was released in March 2011. Jackson particularly likes to write articles relating to life in the country, animals and home projects and has kept a blog focusing on this since 2006.