Double wide mobile homes are the most popular dwellings of their type. A double wide has two sections that typically measure 14 feet wide by 60 feet long each. Bolt the sections together to provide a nearly 1450 square foot home. Proper set-up entails preparing the site. All states require under-floor support systems such as precut concrete piers, steel piers or blocks. Many states also mandate tie-down systems to anchor the home securely to the earth or a concrete foundation. Once set up, more than 95 percent of manufactured homes are never moved again.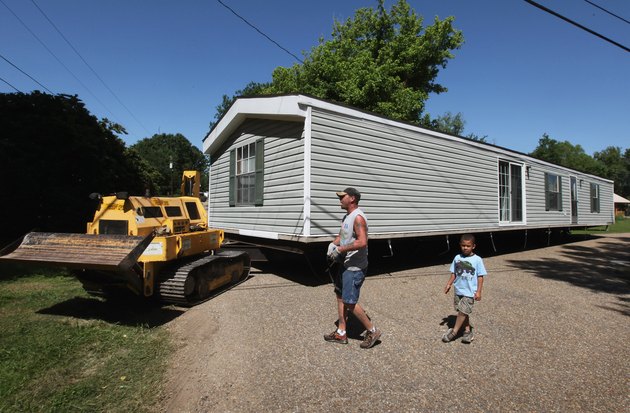 Step 1
Build a concrete slab or slabs beforehand so the transport driver can position the double wide directly onto the prepared foundation.
Step 2
Put under-floor support systems in place before the double wide arrives. All states require the support systems that include precut concrete piers, steel piers or blocks.
Step 3
Put tie-down systems in place. These metal straps and ground anchors, known as hurricane straps, bind the home securely to the earth or concrete foundation.
Step 1
Position the home on the foundation. Use manual hydraulic jacks to lift the first section off its wheels. Remove the running gear or axles, wheels and hitch. Lower one section onto rollers; use hand lever pulleys to move the section into the exact final location. Hoist the section and lower it onto support piers located under the bottom lip of the steel I-beams.
Step 2
Remove the temporary plastic sheeting that covers the section's open side. Duplicate the process with the second section. Raise it to the precise position where it joins the first section. Position and level the home. Make necessary height changes to support piers. Make precise alignments to floor, roof and all intersecting walls; use manufacturer-provided clips to permanently lock the sections together. Anchor the home to the foundation with tie-downs.
Step 3
Connect plumbing and electricity and heating and ventilation ducting to registers. Finish inside drywall and finish trim. Cover up the marriage line (the point along which the home's sections are joined) along the ceiling and floor. Repair any cracks, flaws or incidental damage from the moving process. Cover all windows and surfaces while painting or texturing interior surfaces. Apply a final coat of interior paint and texturing. Test the pressure of the water system and perform a power check. Hook up all appliances, and then test them.
Step 4
Install, or finish installing, the carpeting. Completely clean the inside of the home, including windows. Schedule a cleaning crew for a thorough pre-inspection cleaning.
Step 5
Install gutters and downspouts, and add skirting around the exterior foundation border. Skirting usually consists of vinyl but cinder clocks or treated plywood panels are also common choices.