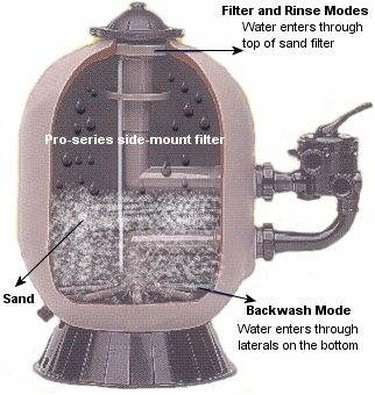 Sand
It may seem counter-intuitive, but fine sand is actually an excellent cleanser for pool water. The sand particles are ground to the consistency of .45 to .55 in diameter--rough enough to trap debris, but fine enough to allow water to filter through.
Filtered Water
The pool water enters a tank through a diffuser, which draws the water down into the bed of sand. The particles of debris are caught in the sand bed, and the water that exits from the bottom of the filter is returned clean to the pool.
Limitations
Anything in the water that is smaller than 40 microns will most likely not be filtered by the sand. The cleansed water will return to the pool through a set of lateral tubes at the base of the filter. To kill bacteria and mildew, you will need to add pool chemicals to the filtered water, but the sand filter will reduce the need for harsh chemicals.
---
Tammy Quinn McKillip has written extensively in print and online publications about pets, parenting, theater, design, health and environmentalism since 1999. She is the editor of the Macaroni Kid National Family Safety newsletter and publisher and editor of "Macaroni Kid," a local family-friendly weekly events newsletter. She is pursuing her Master of Fine Arts in creative writing at City College of New York.