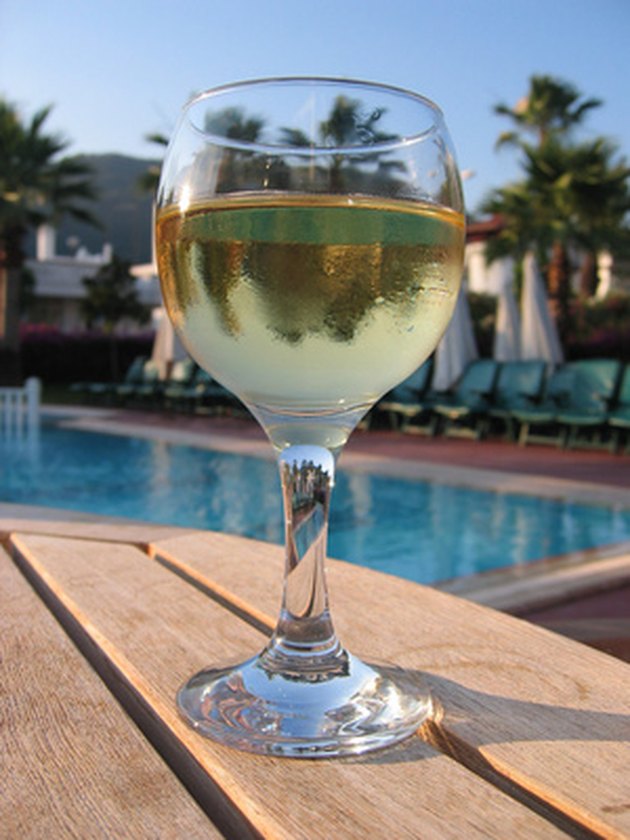 A water goblet consists of a conically shaped glass with no handle, rising from a stem with a foot. Water goblets vary in style, shape and decoration, and are usually more plain than other types of goblets.
Stem Ware
Water goblets are a type of stem ware typically used in formal place settings along with wine glasses or goblets. While usually made of glass or crystal, water goblets are also made of metal, ceramic, wood or plastic. Use these large goblets to consume water, not any other beverages.
Formal Place Setting
According to Emily Post, place water goblets to the right of the dinner plate in a formal place setting, just above the knife. Use water goblets with up to four other glasses in the setting, including a champagne flute, placed to the right of the goblet, followed by glasses for red or white wine and sherry.
Considerations
Water goblets are 10 to 25 percent larger than wine glasses to differentiate between the two and to ensure that enough water is available throughout the meal. Traditionally, in Continental Europe, a host provides water, along with wine, during a meal using a water goblet, according to the Goblets website.
---

Susan Paretts
Based in Las Vegas, Susan Paretts has been writing since 1998. She writes about many subjects including pets, finances, crafts, food, home improvement, shopping and going green. Her articles, short stories and reviews have appeared on City National Bank's website and on The Noseprint. Paretts holds a Master of Professional Writing from the University of Southern California.