The average American generates between 4 and 7 pounds of garbage daily. Since 1960, Americans have doubled the amount of garbage they generate. What to do with all of this garbage is increasingly a question of concern as communities across the country struggle to regulate landfill use, develop waste management programs that are reductive, increase recycling and deal with environmental concerns. As a result, each community has developed its own waste disposal program and has unique policies and rules. These can generally be found on your community's website under headings such as "Public Works."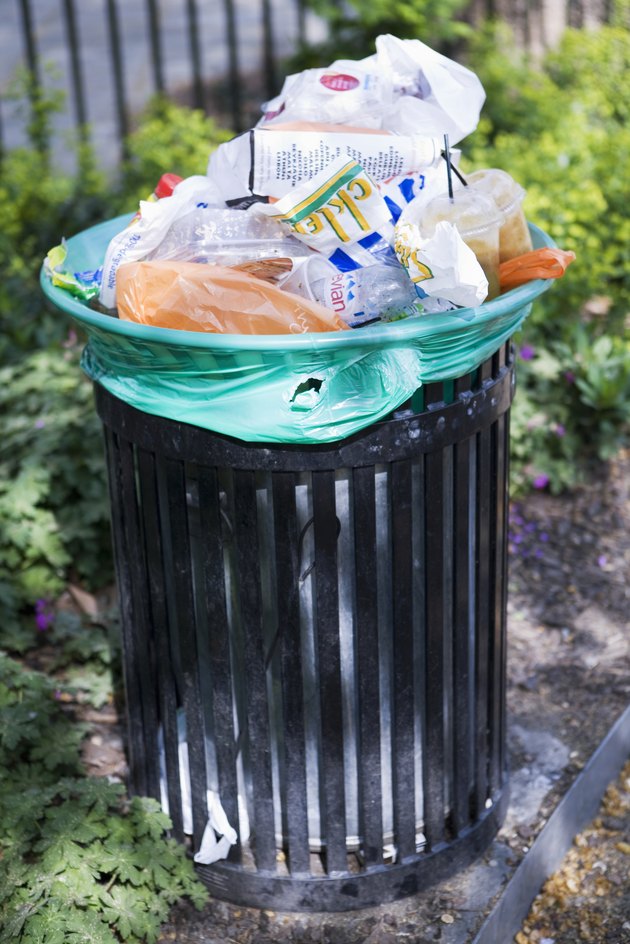 credit:
Dorling Kindersley/Dorling Kindersley RF/Getty Images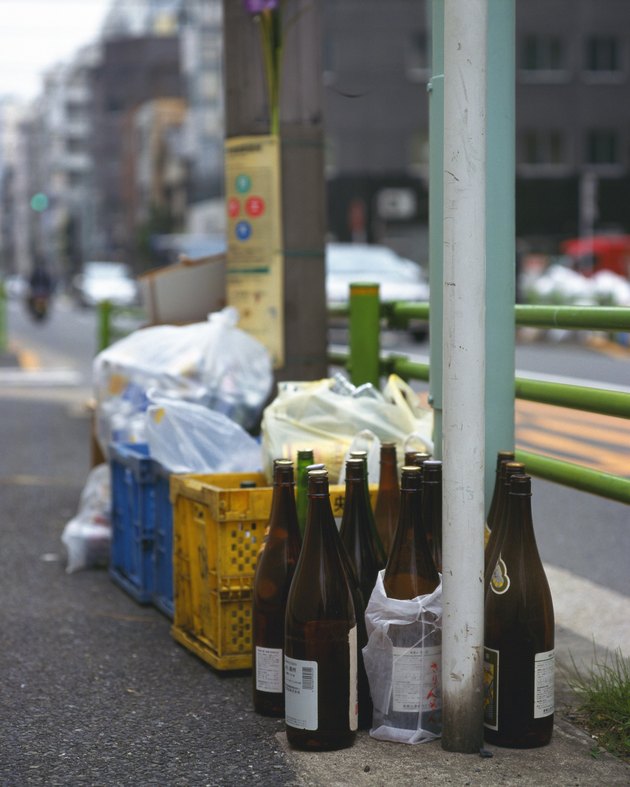 credit:
DAJ/amana images/Getty Images
Most communities offer curbside garbage pick-up; however, some communities limit the amount that can be collected or what materials can be included. Depending on the community, curbside pick-up is paid for through taxes, special collection fees or through purchasing special bags or tags for all -- or excess -- garbage. For example, Decatur, Georgia, has a "pay-as-you-throw" system. Everyone pays an annual fee that covers garbage pick-up, disposal of yard trimmings, pick-up of furniture, recyclables and street sweeping. However, residents must buy special plastic bags that come in three sizes. Known as PAYT bags, the cost of disposal is included in the bag cost, and garbage will be picked up only if it's in one of these bags.
While some communities will pick up large items, many charge a fee. This is especially true for pick-up of items that may be hazardous such as refrigerators with freon. Often these fees are levied through the purchase of a special tag or sticker. For example, in Lansing, Michigan, all residents wishing to dispose of large furniture or appliances that weigh more than 30 lbs or are larger than 4 feet must buy a bulk collection sticker and affix it to the item.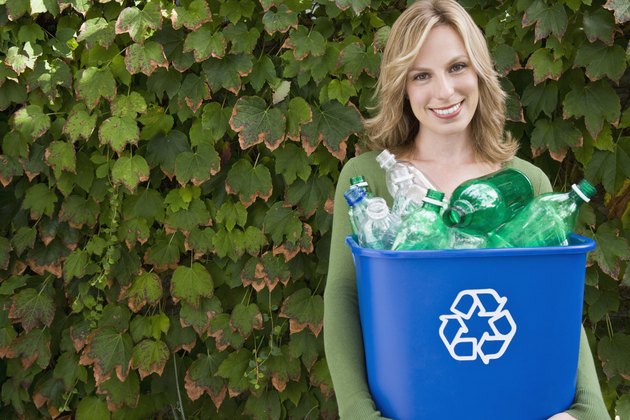 credit:
Jupiterimages/Stockbyte/Getty Images
While according to Edward Humes, author of "Garbology: Our Dirty Love Affair With Trash," recycling in the United States has increased by 34 percent since 1960, this amount is still not sufficient to sustain the waste management system without significant intervention. The traditional mantra for recycling of reduce, reuse and recycle -- as reflected in the popular recycling logo -- has been expanded to include "repurpose" and "refuse." Refuse means to not allow the item to enter the household to begin with. Repurpose means to find another use for a household item including giving it to someone else, converting its use or design -- such as turning a ladder into a bookshelf or painting an old chair -- or donating the item to charity. You could also covert food scraps into compost for your garden.
eCycling refers to the disposal -- and potential reuse -- of electronic materials. American households each own more than 20 electronic products, and while the 2014 edition of the "Recycling and Reuse Study," published by the Consumer Electronics Association, found that "more than four-fifths of U.S. adults (82 percent) say recycling their old electronics is important or very important to them" there is still work to be done. eCycling waste is a significant problem in countries such as China where individuals sort through computer and other electronic waste by hand to salvage the saleable components. The 5 Rs are useful when considering electronic waste to determine if an item could still be used or donated. When buying a new electronic item, see if the retailer offers a take-back program. According to the Environmental Protection Agency, about half of U.S. states have current laws legislating how electronics must be recycled or disposed of, so check into your community's e-waste recycling days or drop-off locations.
There are many other kinds of hazardous waste items in the average home including chemical cleaners, pesticides, paint, batteries and compact fluorescent light bulbs. Most communities have either fixed sites or occasional waste disposal days that allow consumers to safely dispose of these items. For example, the city of New Orleans offers an annual Hazardous Waste Disposal Day. San Francisco, on the other hand, offers hazardous waste recycling for residents three days a week at a local facility.