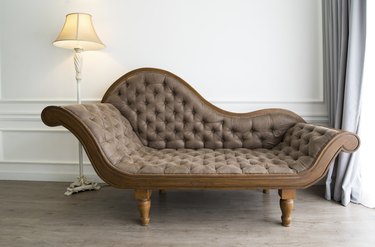 Reupholstering well-constructed antique and vintage couches increases their lifespan and allows you to add your own touch to family heirlooms and thrift-store finds. There is no way to determine a true average price for reupholstering a couch since each piece is different, and costs vary by region. To obtain a cost estimate for your piece, contact local upholstery specialists by phone or email and send pictures of the couch. For a detailed estimate, decide what type of upholstery material you want to use. Choose an upholstery-weight fabric and ask for an in-person inspection.
Repairing the Frame
Most couches need a few tweaks once the old fabric and cushions are removed, which adds to the overall cost of reupholstering. Most experts can give you a rough estimate when they inspect the couch, despite their inability to see the inner workings until they begin the job. Loudly squeaking coils and sagging require repair or replacement coils, and a wood frame with a worn finish likely requires stripping, filling and restaining for the best results. If you choose a reupholsterer who is not well-versed in refinishing wood, you may have to pay a separate provider for a portion of the job.
Updating the Cushions
Replacing the cushions can cost more than the fabric. If the sofa is in otherwise good condition, and you simply want a change in the fabric, you can usually bypass this cost completely, reducing the overall price tag. But if the cushions are worn or not to your liking, expect to pay at least $500 per seat and $350 per back cushion depending on the materials you choose, at the time of publication. For a standard three-seat couch, the cushions alone can cost between $450 for foam and over $2,500 for down-and-feather, at the time of publication.
Upholstery Fabric
The size of the sofa determines how much fabric and detailing you'll need, but the type of fabric you choose as well as the pattern also plays a role in the cost. Basic, solid cotton upholstery fabric starts at $12 per yard at the time of publication, while designer fabric can cost as much as or more than $60 per yard, at the time of publication. For reference, a two-cushion sofa requires 15 yards or more of fabric depending on the design. If you choose a patterned fabric, you'll need slightly more material than you would with a solid color to ensure the upholsterer has plenty to work with to create a seamless repeating pattern. Remember that the cost of fabric depends on how close you are to the source and market fluctuations; you'll pay more for Belgian linen upholstery if you live on the West Coast than you will if you pick it up during a summer vacation in Brussels.
Labor Costs
The average price to reupholster fluctuates based on the cost of living in your area, but it can start at $1,200 for a two-seat couch, at the time of publication. If the furniture is heavily damaged, expect to pay more; if it's in good condition and has simple, easy-to-work with lines, expect to pay less than average for your area. Patterned fabric increases labor costs when compared to solid colors because it requires more attention and planning to work with. The addition of trim, whether adding new detailing or mimicking the old, also adds to the cost, but while the trim and detailing adds to material costs, the true addition appears in the price of labor; tufting details, skirts, hand-sewn seams and other touches require additional time.
---
Amanda Bell spent six years working as an interior designer and project coordinator before becoming a professional writer in 2010. She has published thousands of articles for various websites and clients, specializing in home renovation, DIY projects, gardening and travel. Bell studied English composition and literature at the University of Boston and the University of Maryland.