When it comes to installing hardwood floors, your options are nothing if not diverse -- from mahogany to maple and tigerwood to teak, flooring manufacturers offer dozens of hardwood styles, each with their own pros and cons. Hickory features many perks, such as an exceptionally hard composition and an intricate, highly variable grain pattern. No hardwood is perfect, however, and hickory does have drawbacks, mostly dependent on your flooring needs and preferences.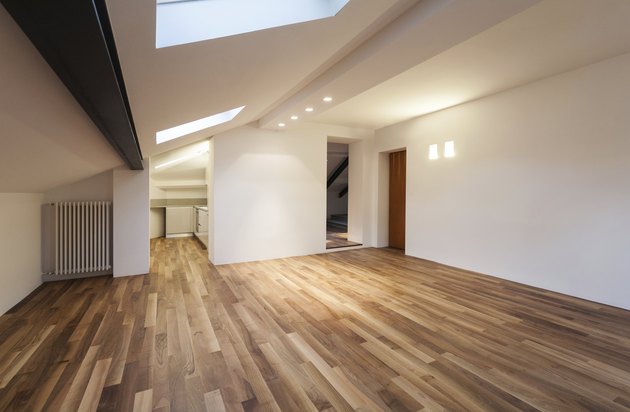 credit:
piovesempre/iStock/Getty Images
Hickory's hardness rating -- which clocks in at 1820 on the Janka scale, a ranking of wood's resistance to wear ranging from 0 to 4,000 -- makes it a durable choice for home flooring, but it's this same quality that also makes hickory a difficult hardwood to work with. Due to its extreme density, hickory is more challenging to cut and sand than other types of hardwood. Likewise, its intricate grain patterns make staining and finishing a more difficult process. This makes unfinished hickory flooring a particular challenge.
For some, hickory's light tone and varied, somewhat busy grain structure may be an asset, but if you're going for a sleek, minimalist, modern or exotic look, hickory is not likely your best bet. This pale wood typically lends spaces a rustic, country-style aesthetic. On a less subjective note, sanding and cutting marks are more visible on this light-hued wood than on other, darker hardwoods.
While hickory isn't the most expensive hardwood out there -- woods such as walnut, rosewood and zebrawood bear that distinction -- it's also not the most affordable option on the market. If budget is a concern, hardwood options such as Brazilian cherry tend to come in cheaper, as do some varieties of teak and tigerwood. Although hickory is hard and dent-resistant, it is not the absolute hardest option available. For instance, Tiete chestnut, Brazilian walnut and Tiete rosewood all feature Janka ratings of 3,540, 3,680 and 3,280, respectively, making them more durable choices for especially high-traffic areas.
If your hickory floors -- or any type of hardwood -- aren't marked with the logos of the Forest Stewardship Council or the Sustainable Forestry Initiative, they may not have been sustainably harvested; seek hickory from sustainable manufacturers to avoid this potential drawback. In regards to both aesthetics and durability, hickory is susceptible to shrinking and warping if the wood stock wasn't properly dried by the manufacturer. Look for kiln-dried wood stock to prevent this issue.